When your shop's motto is "Here at The Providore, we don't just love food, we adore food.", you're inevitably setting huge expectations for your customers. However, you don't need to worry about disappoint when you're at The Providore.
Singapore's newest gourmet food brand, The Providore, is the brainchild of the owners of the wildly successful Jones the Grocer franchise in Singapore. Selling off the business to pursue their adoration for all things food, they birthed the idea of The Providore. The owners, Bob Collick and Bruce Chapman, were on hand on the official opening night (13 June 2013) of the retail outlet at Tan Boon Liat Building to entertain guests throughout.
One thing I loved about The Providore is that they brand themselves as a Singapore label and are madly proud of that. If it's possible, the production will be done in Singapore rather than in factories overseas to make it a local production.
With a rustic and homely feel to their retail space, it's a far cry from what the facade of the building looks like. With warm lighting and wooden installations, you'll feel right at home.
The opening night was filled with loads of good food and drinks (yes, alcohol included!). After the night of tasting and sampling was over, I've found a new benchmark for the definition for what good food is in the The Providore. Even though we were only served with canapés and samples of The Providore products, it was more than enough for us to discern the quality and passion that goes into producing these products. (I truly can't wait for their Mandarin Gallery café to open in July, where main courses will be served)
I was ushered straight to the drinks section immediately after signing in and I was spoilt for choice! Tea, coffee, cordial, champagne, and beer was on offer. The teas, coffee and cordial are all The Providore's private label, sourced meticulously by the owners from around the world and made in Singapore. I was (a little) greedy, and tried all of them.
The private label teas (I tried Forest Berry and range of Earl Grey) were light and flavorful and so fresh!
The private label coffee is created through a special collaboration with Toby's Estate and it is easily one of the best coffees I've tasted – Toby was there in person as well! It was a pleasure meeting the coffee-genius. (You will never be satisfied with famous coffee houses' coffee after this. I promise).
Not to mention, the cordial. Also a Providore Private label product, it was so refreshing! Forget all the ribena and F&N orange, and for army boys, those questionable cookhouse cordial. There were 5 flavors to choose from and it was mixed with their sparkling water. One word: WOW.
*Special mention to the Organic Swiss Beer. SOO GOOD.*
There were 5 tasting stations set up with using only ingredients that you can find at The Providore: Freshly Toasted Artisan Bread (delivered fresh, only available on weekends), Pat's and Sticks Ice Cream, Jams, Relishes and Cheeses. It was amazing that the producers of all the Providore private label were on hand to tell us the story behind each featured product. There simply isn't enough superlatives in existence to describe every single offering they had.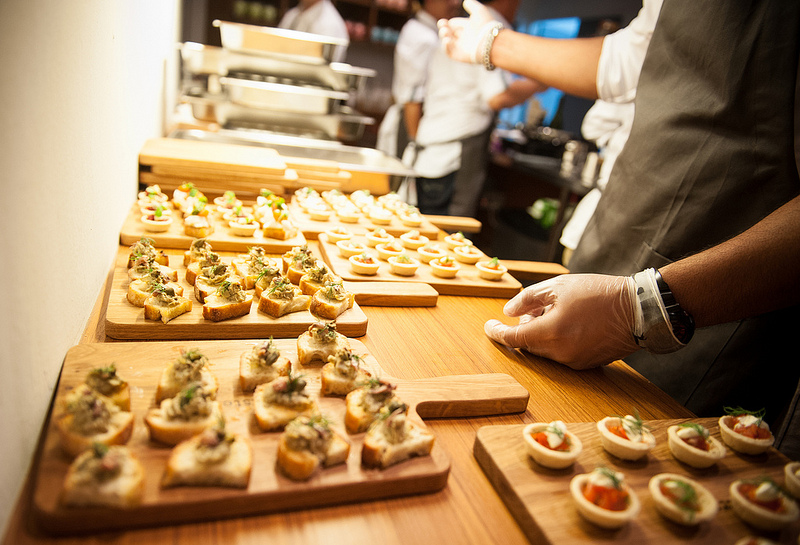 The clear winner was the ice cream from Pat and Sticks ice cream sandwich! OH-MY-GOD. You've got to try it to understand how I felt when I sunk my teeth into it. Only available at The Providore, they are the only outlet outside of Australia to carry the world-famous ice cream brand! Talk about exclusive eh?
Canapés were served throughout the night and the gorgeous-looking bite-size pieces were like mini-dynamites exploding in my mouth expanding flavor and freshness. We were totally spoilt for choices and it was a sneak preview of what the Mandarin Gallery Cafe outlet will be serving up! I haven't been excited for a new food brand in a looooong time! The Providore is going to be HUGE! – you heard it here first. I mean, just look at what we were pampered with the entire night!
SAVORY TARTLETS
Providore Beetroot & orange relish with gorgonzola, toasted pinenuts & cress
Providore balsamic onion jam with Goats cheese & fresh thyme
Salmon tartare with capers, crème fraiche & dill
CROSTINI
Buffalo Mozzarella with roasted cherry tomatoes & Providore basil pesto
Marinated artichoke salad with capers, Arroyabe Spanish anchovies & dill
RISOTTO
Tomato risotto (finished with Providore tomato and basil pasta sauce) with buffalo mozzarella & fresh basil
Saffron risotto with fresh salmon and Bartolini lemon infused olive oil
SWEET
Chocolate tartlet with Sicilian orange zests
Providore lemon curd tartlet with Sicilian lemon Zests
Providore passion fruit curd tartlet with meringue
Everything you see is made from ingredients which you can find at The Providore!
A group of special and super-passionate individuals deserve a huge shout-out. The people behind the counters creating and crafting the food and drinks we enjoyed. I'm terrible with names but to those that I can recall – Clare, Alif, Caroline, Takae – yupp, that's how bad my memory is, and everyone else, a job well-done.
I could find no fault at all with the brilliant job that the guys at The Providore has done.
The Providore is open daily from 10am – 8pm at Tan Boon Liat Building.
The Providore cafe is set to open in July.
Check them out at Facebook or on Instagram: @TheProvidore