The Library's surreptitious bar is currently one of my favourite places to kick back, relax and let loose. The hidden bar concept was inspired by Speakeasy bars in the United States during the Prohibition Era. The increase of alcohol taxes forced bars underground and to make use of faux fronts masking illegal activity. Although there's nothing illegal about The Library's bar, the very concept of entry via passcode only strikes a chord with curious bar seekers.
When one peers through the glass panel at 47 Keong Saik Road, all one sees is an innocuous reference library dedicated to arts, design, photography and architecture. Tell The Library's staff the password (changes weekly) and be led into a secret chamber flanked by mirrors that has a pulsating red glow.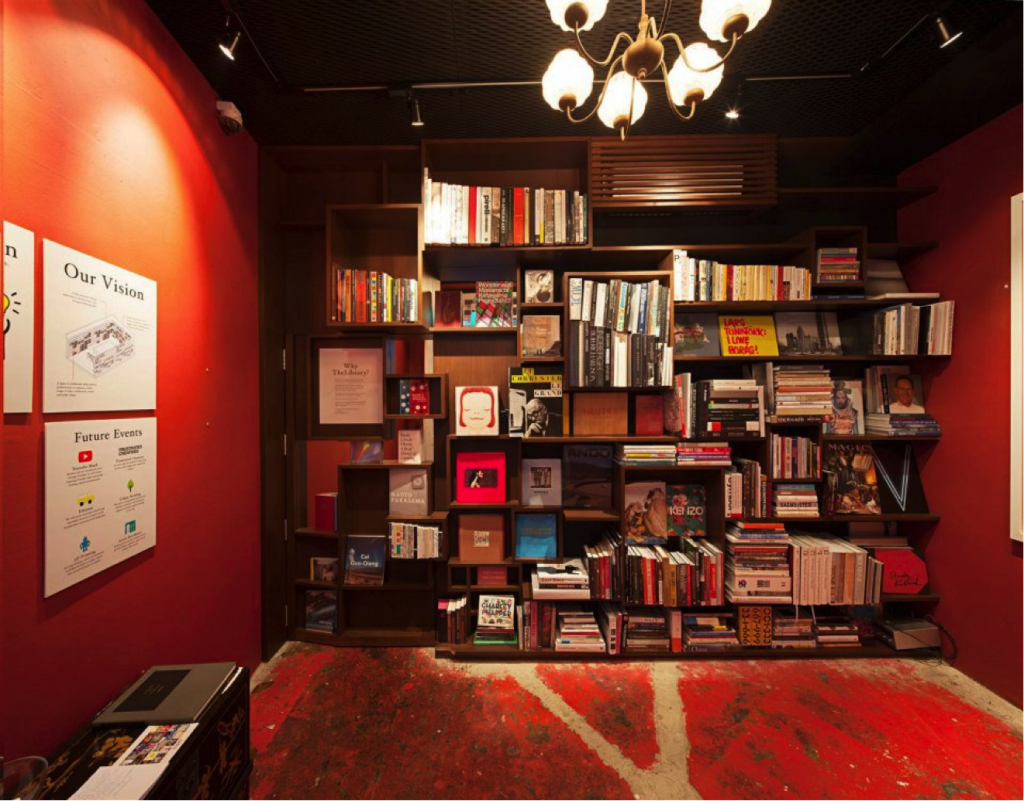 Another door swings open and what first struck me was the music – oh that soulful, melancholic vibe. Once seated at the table, ingenious details such as the bolted copper table and Leonardo da Vinci-esque coasters will take your eyes on a surrealist visual feast. Words certainly do no justice to this place. You have to be there to understand why I felt like I was 20,000 Leagues under the Sea.
My curiosity was piqued, and my eyes continued to widen upon presentation of the drinks menu. The drinks are presented in black-and-white technical drawings, with delectable constituents and eclectic names. Ordering cocktails turns into a mental exercise as you are simply spoilt for choice!
The brains behind this 'secret bar' is talented bar manager, Stefan Ravalli. This adept bartender was formerly a film studies student who found his calling upon meeting inspiring, creative individuals in the Toronto cocktail scene.
Finding that perfect bar as a respite from work will provide you with that little something to keep you going. As Stefan aptly puts it, "Bartenders always seemed like sturdy, world-weary figures, existing outside of the world of petty concerns. They provided a strong centre in a chaotic environment. They always gave people exactly what they wanted. That's the romance of it all." We find out from Stefan what inspired the drinks, concept and space of this elusive, passcode only bar.
Skii: The bar makes me feel like I'm '20,000 Leagues under the Sea'. What were the references used when the space was conceptualized?
Stefan: The designers just wanted something really organic.  Something very layered and textured that felt lived in.  And I think that was the aspect of the design that felt most vivid to us.  I remember looking around after the builders were out.  We had a million things to do, but I was captivated.  I felt like I was in a bar that had been there for 100 years.  Terms like "steampunk" and "post-industrial" came later.
What I love about the design is that its richness and naturalness is what makes it feel fantastical, rather than it just deliberately trying to seem that way, which would come off as superficial.  And there is also definitely that feeling of being in one of those shabby, but reliable airships built by a bumbling, but affable old genius (with a beautiful free-spirited daughter of course…also we have to save the world).  And that's the kind of world we want our drink experience to be in.
Skii: How did you get involved in bartending?
Stefan: As a film studies student I was bartending to raise money while in university. I began tinkering at home and studying whatever I could find and it all somehow felt like the "realest" pursuit I'd ever had so I sought out working at more serious cocktail places.
I got a break into the Toronto cocktail scene and met people more inspiring than anyone I had met in the arts.  So on the heels of trying to break into an over saturated business that everyone wanted to break into, I had found an emerging (RE-emerging) art form that demanded my attention more.  In that time and place, everything felt really new and forward-moving. Like being part of a movement. Soon I began to realize that it was a very easy job to travel with so I began following opportunities in different countries, which has been an amazing for my own professional growth.
Skii: Was it something you always knew you wanted to do?
Stefan: It's something that doesn't get your attention until you go to a bar and watch it all happen, which is when you are a bit older.  How old was I when I snuck into my first bar? Fifteen? Back then I was attracted to it for different reasons, since I had no idea what good drinks were.
Bartenders to me always seemed like sturdy, world-weary figures, existing outside of the world of petty concerns. They provided a strong centre in a chaotic environment. They always gave people exactly what they wanted. That's the romance of it all. Love for Islay whisky comes shortly thereafter.
I scanned the place and its boisterous atmosphere – the image of everyone having some kind of quirky looking vessel before them was truly intriguing and otherworldly. From mini bathtubs, to totem-pole cups and milk bottles; the fun never ends. Alas, my drink arrives.. and bam! I was instantly sold. I imbibed the Wonky Donkey ($17) which was absolutely delightful with tender details such as the mint sprig balanced atop a cucumber slice. The Manuka Honey Vodka was skillfully blended in with fresh cucumber and lime, orange bitters, rose water and ginger beer which gave it a slight tangy aftertaste.
Cuba Pudding Jr. ($19) is another must-try on their menu! Resembling a tropical shake, with a banana leaf wrapped around the metal vessel, the milky fruity goodness of this concoction was simply divine. For those who aren't as adventurous, there is a selection of regular spirits too. A glass of wine starts at $12, while bottles start at $45.
Skii: How did the ingenious, eclectic names of the drinks come about?
Stefan: Myself and the very clever and talented Gareth Evans from our London outlet collaborated on a lot of them.  As well as many of the recipes.  We both love plays on common expressions, film, music, and cocktail history so ideas just lurched out of us.  Many required a moment of recovering from laughter before moving onto the next drink.
Skii: What inspires you? 
Stefan: I find I get a lot of inspiration from what pastry chefs do.  The presentation, play of flavours, and transformation of ingredients that happen with desserts all light up my cocktail crafting brain.  I get ideas for how my cocktails should look from nature and everyday life.  There is so much going on in the world around us.  Inspiration is everywhere.
Spy movies definitely influenced cocktails like the Top Secret (it comes with a note in an envelope stamped "confidential").  The punch served in the teapot must have come from Alice In Wonderland since I was really into that story even as I got older.  For the bathtub, you could certainly say things like "Duchamp" and "Early surrealism", but I think we just thought it would be hilarious.  Old science fiction movies and comic books will also have a big part in the next menu.  So will insane millionaire tycoons, the pharmaceutical industry, the Amish, art deco, public service announcements, and Singlish.
Silverscreen
Skii: What are the strangest things people have left at your bar?
Stefan: A baby. Just kidding. Sorry, I can't think of anything for some reason.
Skii: If you could only drink one thing for the rest of your life, what would it be? 
Stefan: Date and almond smoothies (with good honey). It's practicality is matched only by its deliciousness. My staff are so aware of my dependence on almonds that they bought me a kilogram of them for Christmas.
Did you mean something alcoholic? Sorry it's 10am. A long-standing favourite is The Trident. 3 of my favourite things combined into something well beyond the sum of its parts. Aquavit (a "Scandinavian gin" – heavy on the caraway and anise), Cynar (the most amazing, unique and quirky italian herbal liqueur…one of the ingredients is artichokes), dry sherry (so underused in cocktails), and peach bitters (wraps all the weirdness up in a charming little package). A deeply satisfying cocktail. But right now I want a smoothie.
If you are the 'designated driver' for the night, you won't be left out as their playful mocktails are nothing short of fanciful.  Twisting my Melon ($13) was refreshingly delicious and comprises mainly of watermelon puree smashed with cucumber mint, well-balanced with a dash of citrus and sugarcane. Probiotic ($13), as the drink suggests, is good for digestion as probiotic powder is added into this exciting concoction. 

Finally, you have reached the most important part of the post. How does one procure the weekly password to this hidden gem? Thankfully, you don't need to kill a mafia boss or sell your soul to the devil. I did some research, and found that the easiest way to obtain the password is via the staff at Keong Siak Snacks or through Stefan's twitter account which has only 39 followers as of Xmas Eve 2012 – truly a well-kept secret.
Editor's note (as of May 2014): The password to "The Library" can be found here.
Editor's note (as of 19 Dec 2016): Our review of the revamped speakeasy bar is here.
---
Images courtesy of Jennifer Choi.
This review was done independently. Popspoken has no affiliations with The Library, Keong Saik Snacks or related companies. 
The Library
47 Keong Saik Road
Singapore 089151
Tel: +65 6221 8338
Opening Hours: Monday to Saturdays: 6.00pm to 1.30am