ofo Singapore users now must pay a $39 deposit upon registration and will be charged $1.00 per hour of travel, capped at $2.00 for the entire journey.
The new rental rate is to "encourage rider responsibility", said ofo Singapore in a press release released Wednesday (May 24).
Before its app was updated, users were charged $0.50 per journey. This is one measure the bike-sharing start-up has taken to respond to instances of bike-theft and vandalism. Recently, a video of a teenager destroying an ofo bike made its rounds on social media.
However, some users are not optimistic about the effectiveness of the new measures.
Undergraduate Nicholas Koo, who has seen many faulty ofo bikes, thinks it is "unlikely" that the new rental rate will reduce the misuse of ofo bikes.
"Just because they pay more, it doesn't necessarily mean that users will take good care of them. Besides, they're probably not the next users of the same bikes, so there is no incentive for them to take care of the bikes," said the 21-year-old.
In addition, ofo Singapore will be rolling out in the next month 500 newly designed bicycles that have a smart security system and new features based on customer feedback.
Called the ofo Aura 1.0, each bike has a smart lock that is compatible with GPS in the updated app. The bikes can be locked or unlocked under three seconds as the lock syncs with the app via Bluetooth.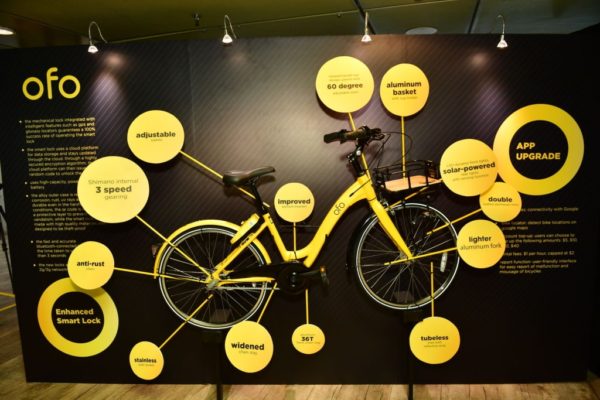 One common grouse from ofo Singapore users was the lack of GPS capabilities on the app that made it difficult for them to locate bikes.
With the app updates, ofo Singapore has incorporated Google Maps to allow users to find and park bikes easily.
Using the app, users can find bikes nearby and a bike locator can detect unused bicycles found in close proximity and guide the rider to the area for parking. When cyclists indicate their preferred route in the app, the map will highlight nearby parking zones.
The ofo Aura 1.0's new features include a rear brake box, adjustable bicycle stem and 3 speed gears.
Previously the only bike-sharing start-up without a basket attached to its bikes, ofo's new model features an aluminium basket with a water bottle holder.
The start-up is in partnership with AXA Insurance to cover rider accidents and injuries, on top of vehicle damages and faults.
Furthermore, ofo Singapore is discussing with JTC Corporation to bring in the new fleet to one-north and Tuas by the end of the year.
ofo Singapore is also working closely on initiatives with the government, HDB industrial estates and town councils to establish over 100 preferred parking zones within public housing estates. The company also aims to release over 1000 bicycles across 25 different HDB estates by the end of the year.
Within its three months of operation in Singapore, ofo Singapore said it has over 100,000 registered users and more than 20,000 journeys made daily.
==
Images: ofo Singapore
Stay updated and social with Popspoken: Facebook | Twitter | Instagram