A version of this post first appeared on Travelcene.
Getting caffeinated is serious business in the South Korean capital, with countless speciality coffee brewers fuelling weary freelancers and delighting discerning connoisseurs.
From converted hanok (traditional Korean house) to repurposed factories, Seoul's excellent coffeehouses offer more than just a good cup of coffee — some also showcase inspiring architecture.
Korea's love for coffee entered popular culture when the 2007 Korean drama Coffee Prince took Asia by storm. In it, standard techniques like pourover brewing, bean roasting and espresso machines were all featured prominently, alongside the usual trials and tribulations of love and relationships. Since the drama ended however, coffee culture gained immense popularity in South Korea with independent cafes and boutique roasters popping up across the country.
Unlike prosaic coffee consumption in the States however, consuming coffee is more of a social activity. What's similar however, are the number of speciality cafes that exist in the country, all of them purveyors of high quality beans and expertly crafted lattes and Americanos.
In Seoul, one other distinguishing factor lies with the actual interior of these cafes. You're never far away from a good (and visually impressive) coffeehouse no matter where you are in the capital.
We take a look at some of the city's standout coffee brewers that have called districts like Myeongdong, Seongsu, Itaewon, Apgujeong, Gongdeok and Ikseon home.
View this post on Instagram
Anthracite Coffee Roasters in Itaewon
Despite being a hotspot for all things international, (both in cuisine and fashion), a walking tour of Itaewon would lead many to believe that the area has seen better days.
The seemingly derelict exterior of Anthracite Coffee Roasters is nothing short of intentional. Inside, you'll find small displays of art ranging from potted plants hanging from the ceiling to huge ferns placed as a centrepiece. Other levels of the cafe (three in total) have a wholly different concept, but aren't any less creative.
It's said that the company allows fledgling artists to showcase their art at no cost; like Gentle Monster but toned down.
The inspiration for the industrial chic layout originates from Anthracite's first location in Hapjeong, where it took over a former shoe factory. With its store in Itaewon, it aimed to replicate the industrial vibe for its three-storey coffee outpost.
Manufact Coffee Roasters in Apgujeong
Occupying the highest floor of Gangnam's Queen Mama Market, Manufact Coffee Roasters is a dream for design lovers.
Take a peek at its profile on Instagram and you'll find picture-perfect shots of its flagship in Gangnam and its sister location in Sinchon.
At the center of the cafe lies a huge table that seats at least 30 people — two outdoor verandahs flank the cafe, giving patrons a view of the glitzy Apgujeong district.
Most, however, would be enamoured by the cafe's ultramodern display piece — an elaborate set of shelves designed simply to store boxes of beans and bottles of cold brew. Yet, the placement and design of all these elements blend seamlessly together in perfect harmony.
The cafe's high ceilings and open concept also gives patrons a sense of freedom as they're able to move freely throughout cafe. Indeed, the strategic placement of leafy plants and ferns round up what's perfect about Manufact.
View this post on Instagram
Fritz Coffee Company in Gongdeok
Known for its wacky artistic direction, Fritz Coffee Company is a household name among many of Seoul's coffee addicts.
Located in the business district of Gongdeok/Mapo, it's also a stone's throw away from the shopping thoroughfare of Hongdae.
And while most come for the vintage aesthetic of the cafe (its Instagram feed is so well curated), many become repeat customers after sampling its coffee and the many interesting varieties of freshly baked bread on offer. The various origins on offer at Fritz are also up to par. Fritz gets pretty crowded owing to its hyper-local lunch crowd so it's best to visit during off peak hours.
Just like some of the other coffee spots mentioned here, Fritz occupies a converted hanok, retaining the various architectural elements that make it feel and look Korean.
We couldn't have fallen in love more quickly with its quirky seal mascot. Though some may feel the brand is trying to hard to be edgy, the cafe itself is doing well with a quiet confidence.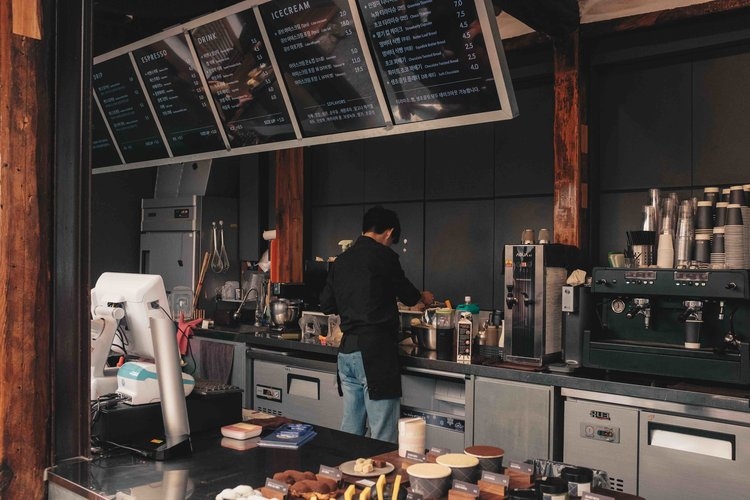 Seoul Coffee in Ikseon (Jongno-3-ga)
If you're averse to the crowds at Bukchon Hanok Village, check out Seoul Coffee in Ikseon. The clever minds behind the coffeehouse have prodigiously converted an old hanok into a little cafe, combining industrial landscaping with the traditional materials like wood. It retains the original doors and entrances from the previous house, which gives an idea of how old the district is.
The coffee bar also offers ice cream (in a curious cube shape, no less) and small bites to go along with your coffee.
Located in the fast developing area of Ikseon, Seoul Coffee could be called one of the flagships in the gentrification of the district. The place was once a red light district in the post war period. Since then, artists and creatives have slowly shuffled into the area.
Indeed, the area's more "upmarket" establishments like bars, restaurants and speciality boutiques share an area also inhabited by traditional Korean eateries and spaces where ajummas and ahjeossis meet.
For now, however, the area is off the beaten path for most tourists as locals make up most of the clientele — expect this to change if even more hip establishment start to move in. The narrow winding alleys of Ikseon still give it a secretive atmosphere, perhaps a nod to its seedier days.
View this post on Instagram
Cafe Onion in Seongsu
Leveraging the large industrial space of a former factory, Onion Cafe has moved in to revitalise the property, a former metal factory built in the 1970s.
With strategically repurposed interiors, the cafe offers patrons a comfortable coffee experience complete with a healthy selection of pastries to keep one satiated. Of course, the main draw of the place is still its industrial chic interior. It's also pretty cosy for a cafe that embraces raw concrete as its main architectural inspiration.
Behind the scenes was an immense effort to perfect the right amount of "decay", from the rust on metal surfaces to the discolouration of tiles and concrete.
At its flagship, a huge and inventive collection of pastries are freshly baked; excellent pairings to your morning cuppa. When we visited, the avocado and roe roll was particularly impressive. Its signature Pandoro loaf looked phenomenal.
The cafe's outdoor area is no less impressive of course though we suspect that the overgrown weeds and exposed steel rebars would appeal most to die-hard industrial chic lovers. On the roof of the cafe, you'll find a hodgepodge of chairs suitable for lounging an afternoon away or a great location for a morning chat with friends.
Owing to its popularity, its likely that the cafe will be packed on weekends. Consider heading there on a weekday when the crowds are more sparse. Cafe Onion also has a sister location in Mia-dong.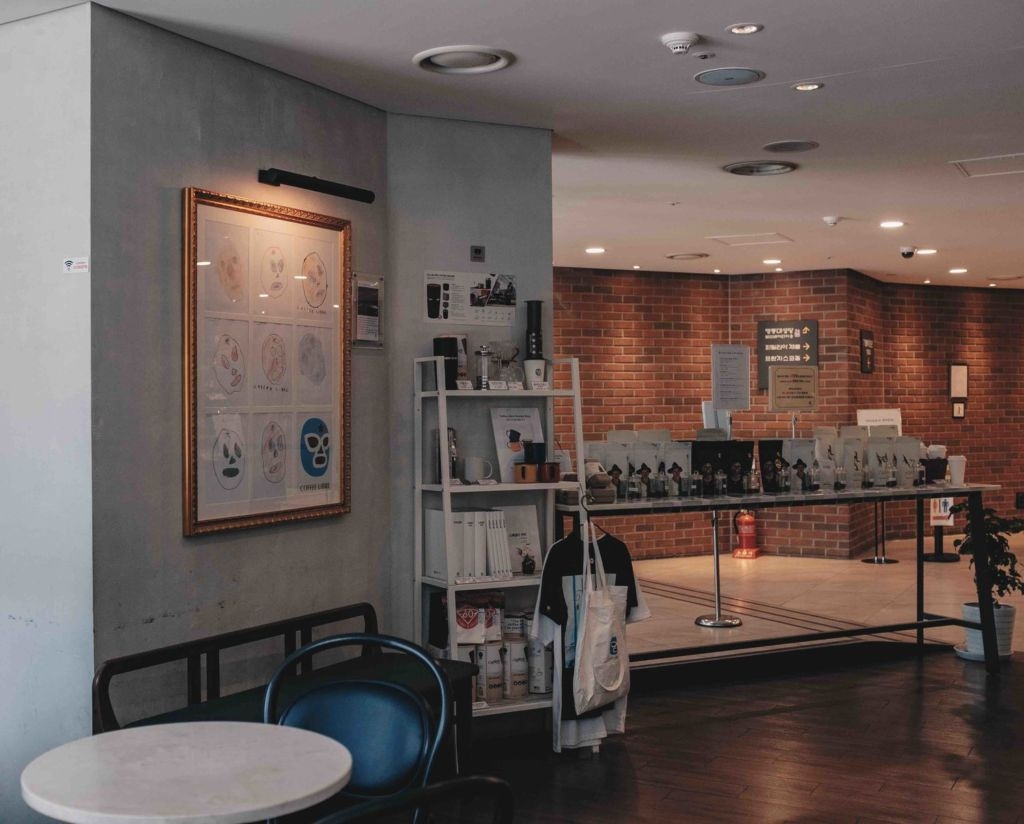 Coffee Libre in Myeongdong
Housed in the beautifully-designed annex building under the Myeongdong Cathedral, Coffee Libre joins a host of independent stores in a building that has stood since the Joseon Dynasty.
Despite its austere size, the coffee bar still sports its iconic lucha mask logo (a shining beacon on a rainy day) and its countertop shines through as a zenith of productivity and brewing excellence.
Similarly brief, their menu offers beans from two origins through a short list of drinks (espresso, lattes, flat whites and a couple of sweetened lattes). The Flat White was the stand out offering, with a creamy texture and a full-bodied flavour to beat.
If you ever find yourself in need of a quick pick me up in Seoul, pop by any of the five stores — we promise that the Lucha libre beats the Siren.
Not convinced, well Coffee Libre's baristas routinely participate in various cupping competitions, including ones held by the infamous Stumptown Coffee Roasters from Portland. Their beans have even been used in various world championships. In fact, the collection of five brick-and-mortar cafes are an offshoot from the main company that deals with bean roasting and distribution.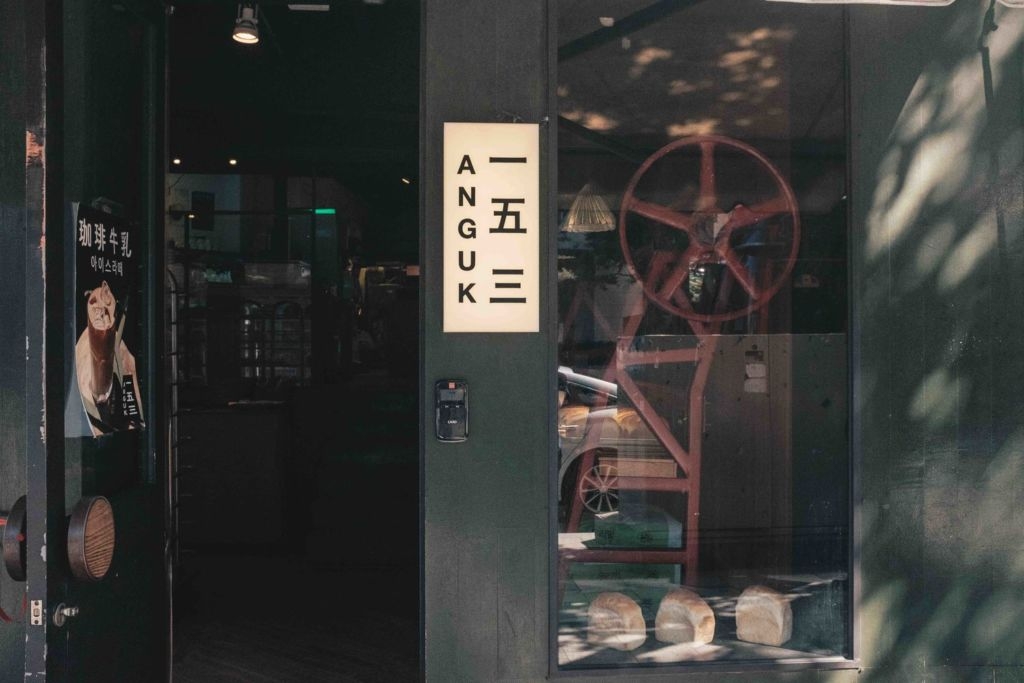 Long live the third wave of coffee
As Seoul climbs up the ladder of popular tourist destinations, its innovative purveyors of coffee are making their own mark in their very own ways. Just like how there isn't one set path to becoming an international city, Seoul's coffeehouses mix and match different styles of brewing to create the perfect brew.
In the midst of the growing hustle and bustle of the city, don't forget to pop in — you too will hardly forget any of these tastefully designed interiors.
==
Images courtesy of Travelcene.
Stay updated and social with Popspoken: Facebook | Twitter | Instagram