In an era dominated by millennials earnestly trying to define themselves, where streetwear leader Supreme epitomises today's fashion rather than haute couture, overnight queues for Yeezys are like an epidemic, and black-out tattoos are all the rage, Culture Cartel — Asia's first all-encompassing street culture event could not have arrived at a more opportune time.
Happening on the 1st and 2nd of December, the first of its kind convention aims to unite the often segregated and neglected facets of street culture at Singapore's F1 Pit Building. From art to toys, tattoos to fashion, the convention will exhibit the best of Asia's street culture through showcases and even art installations.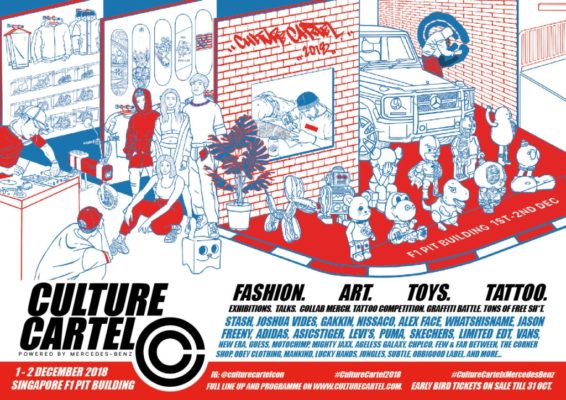 Amid live talks and panel discussions, workshops about beatboxing and customising fashion pieces, and even live art and graffiti performances from global artists, visitors will be hard pressed to find a dull moment in the multifaceted assemblage.
Aficionados of street culture might believe that Culture Cartel is a long time coming, with Singapore being at the forefront of arts and culture in Southeast Asia for many years. With the spew of art fairs (Art Stage, The Affordable Art Fair) and street art popping up over the years, and the barrage of music festivals (ZoukOut, Ultra, St. Jerome's Laneway Festival, Neon Lights) that are held here annually, it is indisputable that the arts and culture scene has been rapidly gaining ground.
Organised by Habitual, Axis Group Asia and Division Communications, the various showcases at the inaugural event will be curated by their respective industry leaders. Artist Jahan Loh of creative agency Invasion Studios will curate for Art, designer Jackson Aw of cult favourite art collectable brand Mighty Jaxx for Toys, Augustine Nezumi of prominent studio Singapore Electric for Tattoos, and Mandeep Chopra of sneaker boutique Limited Edt for Fashion.
Be immersed in the educational and interactive experience, and look out for exclusive Culture Cartel collaborative merchandise, as well as limited edition merchandise from retailers such as OBEY Clothing and Puma, to name a few, tattoo pop-ups and provocative street art!
In anticipation of the exciting weekend come December, we have two pairs of Culture Cartel Goat Packs up for grabs. The packs include entry to not just the convention but the opening preview and launch party at Zouk on 30 Nov! Winners of the giveaway will also have access to the VIP Stage and Lounge area where exclusive interviews are held, and are entitled to a limited edition goodie bag. Head over to our Facebook page to enter the giveaway.
For more information about the convention and ticketing, head over to their website.
==
Stay updated and social with Popspoken: Telegram| Facebook | Twitter | Instagram