What a whirlwind 2022 has been, with the changes in COVID regulations, the sudden surge of new hospitality businesses, resumption of entertainment and reformulating mindsets with Web3 developments. We handpick some of the most unmissable experiences in the region.
Ring in the New Year from the rooftop of Standard Hotel Bangkok
Swanky new joint in Bangkok modelled after Hollywood in the 1980s, has appointed electronic beat makers, Lost Frequencies and Aroop Roy to paint the town red and usher in the New Year. We saw Dita Von Teese grace The Standard's official opening, which definitely shook up the Asian cultural scene, and we cannot wait to see what they have in store for us next year.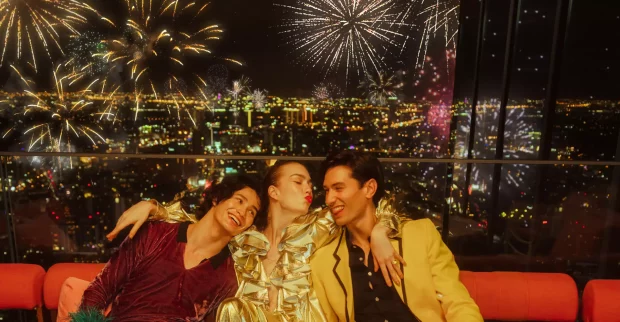 Jiggy with the Jolly Motel at Zouk Singapore
What's Christmas without a little bit of Santa magic. Deck the dancefloors with fuchsia pink, as Zouk goes retro and plays homage to its three decades of legacy this Christmas. Expect lit cactus, fiery somberos and fancy flamingoes as you enter Asia's top club's "Jiggy Motel", a fun-filled night where its resident DJs belt out crowd-favourites from the 90s as part of Total Recall. Full-line up, here.
Party with ice at Gingle Magic
An ice bar in this tropical climate is all you need. Homegrown distillery, Brass Lion will be dishing out gin-based cocktails as you groove to electronic beats.
Get dressed in your winter best and party the night away at the Marina Bayfront Event Space as you welcome 2023. Tickets start from $78, include a drink and can be purchased from this link.
Culture that connects us all with Yan Pei-Ming's Hennessy collaboration
Limited edition bottles of this classic cognac collaboration honours the Rabbit Zodiac. Despite differences, Hennessy, through celebrated Yan's work, hopes to bring together all characters of the Zodiac through his iconic style in a massive painting, filled with gestural strokes. For the first time, he will be working with colours such as amber, russet and burgundy, as a nod to the mahogany hues of the Hennessy X.O.
This Chinese New Year, Cherry Garden has curated a sumptuous seafood menu to be paired with the cognac, and MO Bar has come up with special cocktails such as the Asian Side Car.
Massive art installation at Gardens by the Bay by Chris Labrooy for Porsche
Motorheads and art lovers will be in for a treat with a larger-than-life sculpture by Scottish artist, Chris Labrooy, known for his whimsical renditions of Porsche cars.

As part of Singapore Art Week 2023, his latest work, "Dream Big", which features a Porsche car, will go live from 6 January 2023 at Gardens by the Bay. There will also be a pop-up installation at Mandala Club. In conjunction with Singapore Art Week 2023 festivities, Porsche Singapore will showcase a larger-than-life installation titled "Dream Big." by Scottish artist and Porsche enthusiast Chris Labrooy.
Tour vineyards without having to leave your home at Fruits of the Vine
Viticulture at its finest. Highlights of this one-day wine affair on 8 January 2023 is brought to you by Grand Cru Wines at Four Seasons (Singapore) include wine talks by industry stalwarts such as Lisa Perrotti-Brown.
She is one of four hundred Masters of Wine worldwide, who will be speaking on Frescobaldi, a reputable vineyard hailing from Tuscany that was founded in 1300, and was instrumental to the rise of the Florentine banking industry. Tickets start from $98, get them here.