The new chief sees himself as a maestro working in harmony with all players
Low Eng Teong is better recognised these days as the Chief Executive Officer of Singapore's National Arts Council (NAC), but here's a confession: I have known him as a stupendously supportive ex-colleague and supervisor, when I was Festival Director of Singapore Writers Festival from 2015 to 2018.
I had actually heard about him a decade earlier, from a close friend who taught at Victoria School and spoke fondly about a certain Mister Low, the school principal and a superb mentor who cared about his staff and students. Glad to say that these empathetic qualities were very much intact when the 54-year-old took over the NAC mantle from his predecessor in March 2023.
The role of the conductor is not just to direct but also to listen. It's to help people play to their strengths and to achieve the vision of the score.

Low Eng Teong
We meet for lunch at a restaurant at Katong, but it quickly transpires that the place would get too noisy, and he suggests we continue our chat in his much quieter office at Goodman Art Centre.
The change of venue turns out to be serendipitous. Eng Teong, after all, doesn't so much pronounce as intones, almost sotto voce… and, oh yes, doesn't some design guru say that a person's workspace reflects one's personality?
The CEO office, double the size than his previous room, is open and clutter-free. I have asked him a week earlier: "Name three things on your work desk or in your office that hold a special significance for you."
So we embark on an impromptu tour. The first item (below, left) is a 2011 large ink drawing by contemporary art pioneer Tang Da Wu. Propped on a low oak pedestal, it was an intriguingly abstract portraiture of the performance artist Lee Wen, inscribed with the Chinese character for "wen" (文), a reference to the latter's name which also means "literature" or "culture."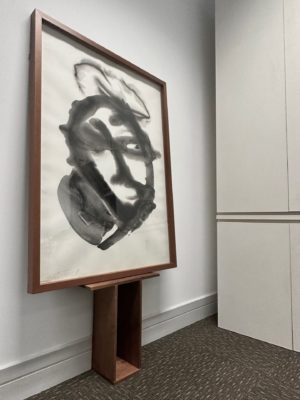 "It reminds me of the relationships between artists at The Artists Village (TAV), the mentoring and mutual respect for each other," explains Eng Teong, who hung out at the arts venue founded by Tang back in the 1990s. "I'm still seeing this spirit in the arts scene, between established artists and younger artists."
The second item is a baton (above, centre), presented by his predecessor "in a symbolic handover ceremony during an NAC Town Hall when it was announced that I would be taking over the role of the CEO."
"I like it because it reminds me of my job and my role, which is akin to a conductor of an orchestra," he says, adding that "we have a score, which is Our SG Arts Plan 2.0," to be released later this year.
He explains: "The role of the conductor is not just to direct but also to listen. It's to help people play to their strengths and to achieve the vision of the score. That's the role of the leader: to bring out the best of everyone."
The last item he chooses is a minimalist scent diffuser (above, right), gifted by his wife, and "a reminder to learn to breathe throughout the day, and to keep me grounded."
Popspoken: It's been a few months since you took over as CEO. What is one thing you wish you knew when you took over?
Using the airplane metaphor, one only feels the full weight of the role when one is in the cockpit. When I assume the pilot seat, I feel the full weight of the responsibility and what it means to be working with a dedicated team to drive the arts scene in Singapore.
I wouldn't say it's the biggest role I've had; the responsibilities in my previous roles were of a different kind. This time round, as we are the National Arts Council, we are responsible for championing the arts at the national level. It's a privilege but also a big responsibility. Thankfully, we have a good team at the NAC.
Popspoken: What are some misconceptions about the NAC that you want to dispel?
I'm more focused on working with colleagues to deliver the NAC's mission of championing the arts, so that the public can enjoy the arts, and the arts sector can feel the impact of the work we do.
At the end of the day, people will see us as being true to our mission. We are aware misconceptions exist, but we hope that focusing on doing our work well will address some of these concerns.
Popspoken: You have rhapsodised about the days in the 1980s and 1990s hanging out at The Artists Village, and how the time and space meant each artist could develop in his/her own way. What is the one enlightenment from that time has influenced the way you view the place of the arts in our lives?
The time I spent there as a young artist in my 20s has allowed me to be part of this community of practitioners. The support we gave each other was extremely important. It was Vincent Leow who taught me how to stretch a canvas. Da Wu was a mentor to many of us.
The question is: How do we continue to promote this community of practice in our arts ecosystem?
On the creative process, one thing we have to remember is that there is always an element of the unknown. To support the creative process, we must allow for the unknown, and some space for the artist to take the work to a level that may be different from what we originally planned.
Popspoken: Do you think there will always be a tension between grant-giving and addressing some who fall through the cracks? How can you address it?
We [NAC] are very mindful of the tension, the need to to calibrate this balancing act. We know it's not easy. In order for the process to work, our way of working with artists needs to be relational and open, so we can discuss changes and adjustments.
At the same time, we are also mindful of the accountability for the resources we disburse. We are learning. It is part and parcel of what we do, so we do our best. But with the sheer volume of grant applications, we need to see how best we can manage this.
Popspoken: You mentioned before that the NAC has a small staff strength of about 200. Given the number of staff vis-à-vis the large amount of projects you're in charge of, do you think there is a need to invest in communicating these complexities as well as your rationale for streamlining grants?
You're right. Communicating priorities is extremely important for us. In the last Arts Plan (2018-2022) and the upcoming one, we spent a lot of time engaging with the community, within and beyond the arts sector, as well as with the public, so that we can collectively agree on how to drive the arts scene forward. Given the finite resources, we need to focus.
Popspoken: As an artist-turned-civil servant, what do you think are some areas that are often misunderstood between the arts community and the NAC? How would you bridge the gap?
I see it as a continuum from practitioner to public servant. What's important to me is how I can bring the different roles together. For the NAC, it is to build multiple bridges for multiple parties. Our scene has matured to a level where the role we play is bridge these parties.
With these many different stakeholders, we may not always share the same objectives or perspectives. The only way we can work is harmonise. We need to work out how we can have better conversations, and create a culture where all parties are open to the dialogue.
If we encounter disagreements, we engage each other to find the way forward. I hope we can at least understand each other's position better, and not walk away with misconceptions.
We need to discuss these concerns and considerations, so that there are no misconceptions, such as NAC being biased as a commissioner/organiser, or that we are censoring certain artistic expressions. I believe that we should always be open to discussions and dialogues.
Popspoken: You have been an educator for decades, and some teacherly folks have told me they enjoyed working with, and for, you. What pointers regarding leadership can you impart?
There are two things I anchor myself on:
One: When facing students or teachers, I remind myself to be as genuine as I can. Two: No matter what role I play, I see myself in the position of stewardship, and endeavour to make the work environment a better one for the next person to take over.
In my career, I've always been working with people. I hope the people I've come into contact with will feel they've grown.
Popspoken: As someone who has worked for the Ministry of Education and now works for the National Arts Council, you have consistently advocated for the importance of arts education in schools and outside. Can you elaborate on why arts education is important at this stage of Singapore's development?
To begin with, I myself have benefited so much from having good teachers. Without them I wouldn't have been on this path. Some of my teachers have gone above and beyond the call of duty to support me.
I am a kampung boy at heart. I'm thankful my parents did not stop me from pursuing the arts. My secondary school teacher asked the school principal to allow me to sit for the art paper at O levels without having to take it as a subject. I had learned from an artist outside school. That paved my way to continue my path in the arts after that.
That's why I find arts education important. I strongly believe that when people are touched by the arts, they will come to appreciate them. The arts can lead to greater empathy, and uplift your well-being. It is therefore important for Singaporeans to be exposed to good arts from young.
When I was doing curriculum design, I pushed for the curriculum to help students gain greater knowledge about the arts in Singapore. At the NAC, we are a strong proponent of working with the MOE to increase students' exposure to the arts.
Our recent research informs us that people with early exposure to the arts will continue to appreciate and support the arts. In our work now, it is important to build the next generation of artists and audiences.
Popspoken: Must the arts be quantified only in monetary terms? If not, what other matrix should it also be measured by?
It's always difficult to talk about measuring the value of the arts – both tangible and intangible. I met with different leaders at the International Federation of Arts Councils and Culture Agencies (IFACCA) recently, and one of the key topics was how to better measure the value of the arts, for the purposes of advocacy and garnering more resources.
We have come to understand that the arts have multiple roles in the society, economy, and et cetera, so its value should also be measured in multiple ways.
Of course, there's a challenge in quantifying [the value of the arts]. We've undertaken research on the value of the arts in well-being, for the seniors, and so on. At the same time, the arts can also bring value to different parts of the economy. The most obvious example is art transaction, as in the buying and selling of artworks and tickets.
Some people have also tried to understand how the arts can generate tourism receipts. We will continue to quantify the economic value of the arts, so we can grow different sources of support. The arts in Singapore enjoy good state funding, and in the past decade or so, we have been trying to get more support from the private sector too.
The third [source of support] to build is for the general public to pay for the arts. Growing audiences, especially paying audiences, is a focal point. We have free quality events, but hopefully, more audiences will be willing to pay to experience the value of the arts, such as in buying a book, or attending a performance, to ensure there is the next book or performance [they can look forward to].
It's not going to replace state support. State funding is still important, for example, for developmental work that needs to get our arts to that stage where people are willing to pay.
I am a kampung boy at heart. I'm thankful my parents did not stop me from pursuing the arts.

Low Eng Teong on his passion for the arts
Popspoken: Before you became CEO of NAC, you were Deputy CEO in charge of various art forms. Can you give us a two-liner assessment of the state of each performing arts on its strength(s) and its shortcoming(s): visual arts, literary arts, and performing arts (theatre, dance, traditional arts)?
It's important to take a long lens when sharing on the status of each individual art form or entire scene. Over three decades, we've seen tremendous growth in terms of art infrastructure, and the setting of the University of the Arts Singapore (UAS), and so forth.
For a country of our size, the amount of creativity in our artists' practice is something we can be proud of, not just in terms of different art forms but also in different languages as well, such as in the vernacular fields for literary arts.
Each art form is at a different stage of growth and maturity, and some are able to unlock economic value faster than others. Looking at our arts calendar, we can see three peaks very clearly: Singapore Art Week (SAW) for the visual arts, Singapore International Festival of Arts (SIFA) for the performing arts, and Singapore Writers Festival for the literary arts.
Each of these platforms has the presence of regional/international artists. One thing I feel proud of is that our own artists can hold their own against the rest of the world. What I love to see is collaboration between artists. For example, the recent SIFA commission Angel Island, where artists from different disciplines came together to create a multi-genre performance.
Popspoken: Sustainability is a double-edged sword. Let's face it: there are some art forms which will risk extinction without state funding. What are some hard truths we have to reconcile with if we want to cultivate, even protect, our arts? Does the NAC feel that it's "survival of the fittest," or do we want to protect certain art forms because they are important?
This is a hard question. It's a philosophical question, not just an economic one.
The arts are constantly evolving. At the core of the arts is creativity and reinvention. What's important is how the arts continues to evolve and recreate itself.
Take for example, John Cage's 4'33, which was first performed by pianist David Tudor in Woodstock, New York, in 1952. The latest performance of this was a closing piece for the Berlin Philharmonic's last concert before they had to go into lockdown for COVID-19. Every time time it was performed, from 1952 to now, is it the same piece that was performed?
How do you sustain a practice, and not merely an artwork? Can an artwork reinvent itself? How do we create an environment for the evolution to take place, and not just preserve a certain art-form? It must have relevance and resonance with people.
It's not just how the NAC sees it, but how the practitioners and audiences see it as well. For example, a book of poetry – if it's not read anymore, does it mean that the work is extinct?
Perhaps the work is no longer practised, but it has seeded an idea that can continue.
The arts can lead to greater empathy, and uplift your well-being. It is therefore important for Singaporeans to be exposed to good arts from young.

Low Eng Teong on the importance of arts education
Popspoken: The COVID-19 pandemic has expedited the foray into digitalisation for artists and arts groups. Now that the life has resumed into some semblance of normalcy, what lessons can we learn about arts engagement? Does digitalisation work, or is it a hybrid situation? What are the nuances we need to be aware of?
Before COVID-19, we have been pushing digitalisation, and the process was sped up during COVID-19, primarily in the outreach and digital presentation. After COVID-19, there's a lot more to learn on what it means to digitalise and incorporating technology in the arts.
The first Arts x Tech Lab [a 2021 partnership between the NAC and Keio-NUS CUTE Center], for example, aimed to encourage arts practitioners to explore the possibilities of integrating technology into their practices. Some good ideas were presented.
Question is: How are artists exploiting technology to change their practice or how they present the work?
Also, how do we use technology to help artists become more efficient, productive, and sustainable operationally? For example, the NAC-UOB Acceleration Programme for the Arts.
Lastly, how do we use tech to reach out to audiences? One barrier to consumption is the audiences not knowing about the arts programmes, as the information is sporadic across multiple websites.
It's more than just a marketing problem. We want to use technology to provide semi-curated event recommendations for the audience, such as with the CATCH beta site.
Popspoken: NAC is about to release the SG Arts Plan 2.0. Which is the most surprising takeaway to you?
Something I find very encouraging is the public's response to the Arts Plan. To our pleasant surprise, we received more than 2,000 responses in our engagements with the public.
One key takeaway is that the public feel that the arts play a key role in bringing the community together, and they want more access to the arts. It's important for the NAC, for the arts sector, and for the arts community to know that this is what the public is looking for.
POPSPOKEN'S RAPID-FIRE QUESTIONS WITH ENG TEONG: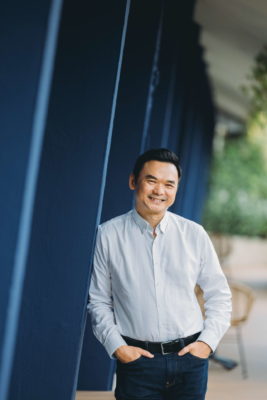 Do you prefer to start your day with tea or coffee?
Coffee.
Three words to describe your role as NAC's CEO.
Conductor, connector, collaborator.
Complete this sentence: Without art, our lives would be…
…art-less.
Where do you feel most inspired?
At an art studio.
What kind of art, or a specific artist, are you drawn to?
I like to read Milan Kundera's works, such as Slowness.
When you're not working, how do you spend your time?
Appreciate art at galleries.
What advice would you give to artists who are just starting out?
Art-making is for the long haul.
What was your favourite subject at school?
Art.
What talent would you most like to have?
Talent with words.
When you were little, what did you want to be when you grew up?
An artist.
If you weren't NAC CEO, what would your dream job be?
A socially-engaged artist.