The cultural scene in Singapore rumbles once again with the return of the Singapore International Festival of Arts (SIFA) in May. In festival director Gaurav Kripalani's third and final run, the condensed three week-festival period will feature five artistic journeys. Moving Images, Classics Reinvented, Facets of Femininity, Navigating the Now, and The Sum of Our Parts—  will thread through the lineup of diverse, multi-disciplinary works.
"With the exciting lineup of shows and commissions this year, audiences can see the arc of what we have strived to achieve over these three years," says Kripalani, expressing his pride for the growth of the festival and indeed, the behemoth arts festival boasts a promising lineup once again this year.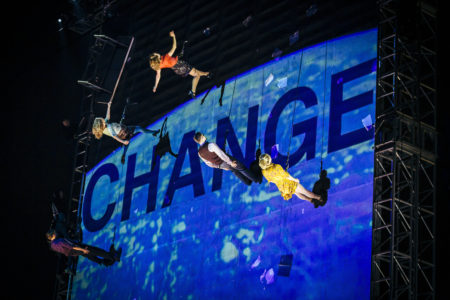 This work addresses the pressing issue of climate change. In a re-imagined world past the point of salvation, As The World Tipped is a devastatingly beautiful disaster movie that plays out in the sky featuring aerial performers and a platform that tips in congruence with the disastrous state of the environment. Though the creation of this UK-based spectacle dates a decade back, its themes have only grown with relevance over time and should be witnessed while the plot of the performance is still a not-so-distant imagination.
Address: The Meadow, Gardens by the Bay
Date: 29 to 31 May (8pm)
World-renowned composer Tan Dun will grace the stage at the Esplanade Concert Hall with his heavily-philosophical pièce de résistance, Buddha Passion; a six-act multi-layered performance of choral, vocal and orchestral work that meditates on the life and teachings of the Buddha. Inspired by his travels across the globe from Dunhang's mystical Buddhist caves to the storied libraries of Europe, the piece paints allegorical characters and eastern landscapes that tell tales of peace and compassion on a background of a melodic masterpiece—truly a spiritual experience not to be missed.
Address: Esplanade Concert Hall
Date: 15 to 16 May (7.30pm)
From Canadian masterminds Daily tous les jours, who were behind SIFA 2019's We Can Dance, comes Musical Swings—an interactive installation that gives participants a chance to make collective music by hopping on a swing. Each pump of a swing triggers a note that, when worked in cooperation, will compose a secret melody. The giant musical instrument encourages collaboration and synchronisation between fellow festivalgoers, encapsulating the notion of bringing people from all walks of life together with art. If you're one for unorthodox art pieces, this exhibition is for you.
Address: Cathay Green
Date: 1 to 31 May (10am-10pm)
Taylor Mac – A 24-Decade History of Popular Music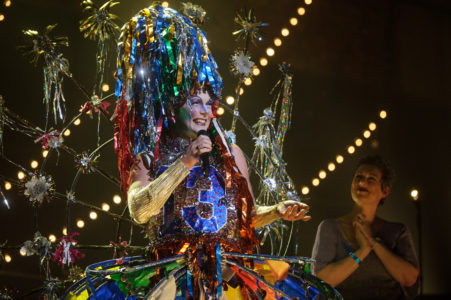 Tony-nominated playwright, Pulitzer Prize finalist and drag queen extraordinaire Taylor Mac is known for 24-hour-long performances of 246 songs that have made American popular music from the last 240 years back in 2016. This year, Mac's debut in Singapore will feature an abridged, yet nothing short of extravagant, two-hour version. Expect a crash course in American pop music as Mac soars through musical styles, from Whitman to Bowie.
Address: KC Arts Centre – Home of SRT
Date: 22 to 23 May (8pm)
A Dream Under the Southern Bough: Existence《南柯一梦》之辱梦
Part of the anticipated local commissions is A Dream Under the Southern Bough: Existence《南柯一梦》之辱梦, by Toy Factory Productions Ltd. The final installation of an elaborate dream sequence will tell the tale of disparities between dreams and reality in an epic culmination. The trilogy is adapted from the legendary kun opera masterpiece by Ming Dynasty playwright Tang Xianzu written more than 400 years ago and tailored for the contemporary stage by the bilingual theatre company. The play will be performed in Mandarin with English subtitles.
Address: Drama Centre Theatre
Date: 22–24 May 2020 (Fri – Sat 8pm, Sun 3pm)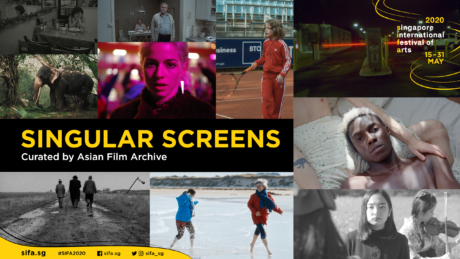 Singular Screens is a celebration of diverse and independent cinematic masterpieces that stem locally and beyond. The films are curated by the Asian Film Archive, which values ingenious and risk-taking works in cinema such as About Endlessness, which explores themes of beauty and cruelty confined in human life, So Pretty that follows four young queers navigating the bustling streets of New York City while struggling to maintain their proto-utopian community against the outside world; as well as range and diversity in films such as Hungarian classic Sátántangó, Japanese Tamaran Hill that's based on a novel and Cemetary, a Spanish fable of a mythical elephant graveyard.
Address: Screening Room, Festival House & Oldham Theatre, National Archives of Singapore
Date: 7 to 31 May
Additional Highlight: Festival House
The Arts House will lend its space to the activities of SIFA's Festival House, where a myriad of performances and programmes is slated to take place. Look forward to insightful conversations about climate change by speakers Jason Pomeroy, Michael Broadhead and Matthew Schneider-Mayerson and Melissa Lim, local community of independent producers, art managers and artists Producers SG with their panel at Public Participation and Art Making, an introduction to the terrifying world of Japanese horror characters at OIWA, Godzilla and What? The Many Faces of J-Horror by Dr Lim Beng Choo among the many workshops scheduled.
This year also sees the return of House Pour; SIFA's very own festival bar. Meet, mingle and ponder over the 100% Singapore exhibition with other like-minded individuals between shows, with the help of your favourite social lubricant.
Update:  To ensure the safety and well-being of our audiences and performers, Arts House Limited will not be staging SIFA 2020 from 15 to 31 May 2020.
==
Stay updated and social with Popspoken: Telegram| Facebook | Twitter | Instagram