Cats the Musical is a record-breaking musical by Andrew Lloyd Webber, adapted from TS Eliot's 'Old Possum's Book of Practical Cats'. It has been 38 years since the musical's premiere on Broadway and it is still making its rounds internationally, making it the fourth-longest-running show on Broadway and the sixth on the West End. As the title suggests, this is a musical of all things feline. The audience is invited to join all the Jellicle cats at their annual Jellicle ball where Old Deuteronomy, their leader, makes the Jellicle choice for one cat to be reborn into a whole new Jellicle life.
Recently, a movie remake of the musical is released and the reviews have not been promising. My social media feed has been bombarded with calls to watch the movie drunk or simply witness how bad a train wreck it can be. Yes, it has been that bad. However, it seems to be a growing trend for more musicals to be turned into movies to become more accessible and cater to the mainstream crowd. With Les Misérables, Hairspray and Chicago being the first few, I start to wonder if these musicals-turned-movies can and will replace live musicals altogether in the future.
Is it possible to retain that experience a musical can bring you on a screen and never leave home again? Will there be no more value to going to a theatre and watching any live performances?
After catching the Singapore season of Cats the Musical at the Sands Theatre, I am convinced that live musicals are here to stay and here are some key reasons why.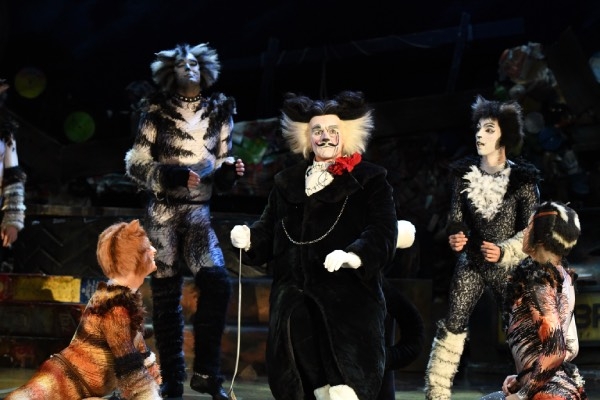 Live music and singing
Accompanied by a nine member orchestra, including their musical director, the music is played live. What this means is that instead of getting a backing track that is played through the speakers, musicians fill the theatre with layered instrumental songs while following the singing of the performers. The breath and rhythm will be in harmony, with both instruments and vocals coming together as one.
There is a synergy there where the songs will be driven by performative momentum and the crowd that night — if clapping is occurring for example, there might be a pause before the singing continues so no word and no chord is missed. As an audience member, you feel an interaction through the singing as well, that you are being sung to and it's a conversation, instead of just receiving and having to keep up.
Also, no autotune.
Look out for the classic song Memory and Gus: The Theatre Cat for their spectacular range and ability to evoke emotions out of you.
Performance space and set 
Going beyond the elevated stage space itself, the set design of larger than life appliances are consistent with how cats view the world and go on to navigate it and spills out into the audience seating area through colourful hanging lights. Being there, you become a part of this set-up and this world that is being brought to life right in front of your eyes.
And as the cats come sauntering down the corridors, looking you in the eyes before getting on stage, you are more than just a voyeur or an audience member, but an active part of the story that is about to unfold.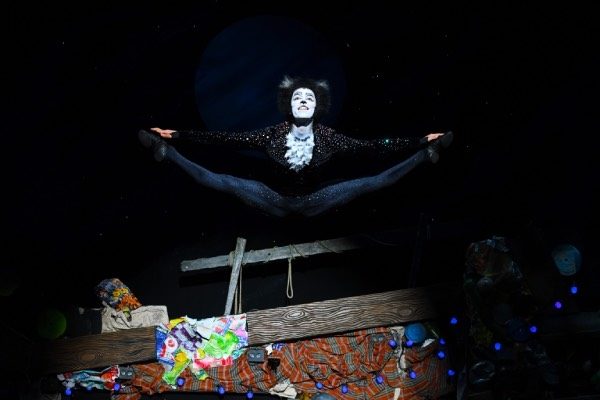 Trained actors with skills and tricks up their sleeves
Somersaults, gliding through the air and embodying that feline athletics are consistent throughout this international touring cast. They do it with such ease and comfort that they convince you that perhaps, they may all just be cats in real life. During the performance of the song The Naming of Cats, they start moving off stage and into the audience seating area, whispering and purring their lines right in front of us. Every line is still said with synergy, conviction and even when they are not saying anything, their facial muscles twitched and moved just like how cats would.
I remember that feeling of fascination growing in me and that amazement that their embodiment of all these characters are so detailed — body language and expression enhancing their make-up and costume illusion.
Then there are the stunts and the stamina of consecutive songs being done with no pause in between. I dare say that this is one of the most demanding shows for any performer and they have all done well.
Together with the music, set and lights, I am in awe of the level of work put in and that commitment to giving their all while having fun during the performance. The devil is indeed in the details, from all aspects of performance — design, music, atmosphere and of course, the performance — and they all come together to form an experience no movie can ever aspire to replace.
So save that movie date for some other story, and attend this Jellicle ball to have a Jellicle good time.
---
Cats the Musical 
Date: 17th December 2019 – 5th January 2020
Venue: Sands Theatres at Marina Bay Sands
Time: Tuesday – Saturday, 8pm / Saturday, 2pm / Sunday, 1pm & 6pm
Admission: From $50 (Get your tickets here.)
Photo credit: CATS tour 2019 Photography by Alessandro Pinna
==
Stay updated and social with Popspoken: Facebook | Twitter | Instagram