There are two types of people in this world, those who have been to the circus, and those who have been to Cirque du Soleil's transformative shows.
Since its inception in 1984, the Quebec-based art circus has been changing the way we consume the circus. Gone are the red-nose clowns and fire rings; now we have theatre and optical illusions. Those who are familiar with Michel Lapris' legendary sets will know that the troupe's breathtaking tricks are fused with hilarious theatrics, seductive music, and whimsical characters that populate the fantastic world of the stage.
Happening from now till 18 August under the luxurious Big Top erected beside Marina Bay Sands, KURIOS – Cabinet of Curiosities invites the audience to step back into a kaleidoscopic, steampunk past. Presented through the eccentric perspective of The Seeker, the plot revolves around a scientist searching for a hidden world of dreams and ideas, all brought to life by a stellar cast of 47 artists from 17 countries.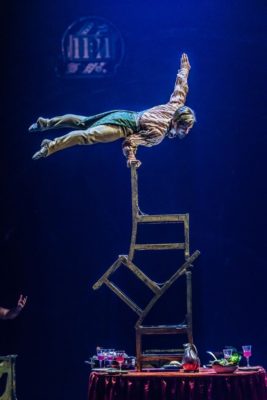 KURIOS pushes the boundaries of time and space to give an incredibly stylish performance, elevated by its attention to details. Innovative costumes, brilliant casting, and the appealing electro-swing soundtrack are only a few of the reasons why the show is a standout. Without giving too much of the line-up away, it pays tribute to the sci-fi genre by reworking the dimensions of live entertainment.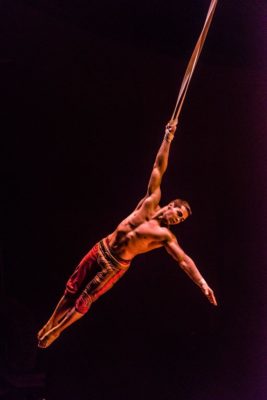 The plot marries the best of alternative histories and mechanical creations, punctuated by the delightful presence of Mini Lili, played by Rima Hadchiti. Set to the backdrop of the classic hide-and-seek, every movement is accentuated by a haunting gypsy jazz score, thanks to Sophie Guay's skilled vocals.
The railway, dining hall, and laboratory all serve as sites for the storyline and more importantly, action. From impossible acrobatics to aerial adventures to balancing acts to meta-performances that play with perspective and imagination, it is a visual feast for those who love goggles, giant mechanical inventions, and time-traveling icons.
KURIOS – Cabinet of Curiosities by Cirque du Soleil
When? Now till 18 August
$95 onwards per person, book tickets here
The Big Top on Bayfront Avenue beside Marina Bay Sands
==
Stay updated and social with Popspoken: Telegram| Facebook | Twitter | Instagram