Written and photography by Darren 'Merovign' Tan
The journey to the eastern edges of Singapore gives you the time to prepare for the installation. What will it be? Will we have to trek through the jungle for it? What makes Pulau Ubin a special place to hold this installation?
State of Motion 2018, organised by Asian Film Archive, explores a selection of seminal Malay-language films mostly produced by Shaw Malay Film productions Ltd back in the golden days. Aptly named Serajah Ku (Malay for My History), the tours bring us back to film locations and give us the privilege to revisit those moments through art work as well as performance. This year, an offshore tour is organised and I am about to embark on the experience.
What better way to reconnect with the history of Singapore than to go back to art and nature?
Serenity and quiet abandonment fills the air under the sweltering midday sun, punctuated by boats parked on makeshift jetties.
Choppy waters start to form as soon as we leave the bay and the bumboat deftly crests the waves with skill and hardened experience from the captain. Sounds of road vehicles are taken over by endless waves.
It is hard to imagine a place so close to home yet so idyllic, untainted by high rise buildings and heavy traffic. I am entertained with fantasies of dropping all modern (in)conveniences to set up camp right here, surrounded by an air of rustic nostalgia and wild nature. To go back to what could have been every day life.
And by the beach, I witness akulah BIMBO SAKTI's site-specific performance of Cinta Tuah Jebat (The Love of Tuah and Jebat). The performance takes place on Pulau Ubin, with its original film location Pulau Sekudu in full view.
Cinta Tuah Jebat – A performance art and movement piece so subtle in its choreography, yet holds true the meaning of the fabled stories of Hang Tuah and Hang Jebat. Set in the backdrop of an off-the-beaten-track beach riddled with rock outcrops and moss, the atmosphere dripped with anticipation.
"How could you do this, Jebat?"
Heartstrings tear at the betrayal of brotherhood and loyalty. For a cause that one so strongly believes in, and to have it completely torn apart by the forces that be.
"How could you betray me like this?"
Handicapped by rage, there is no turning back for these two sworn brothers. Nary a tear was shed but the weight of the anger and emotion permeated the mossy beach.
The anger of a brother becoming beholden to the other. To carry the anger and burdens of your sworn brother is never easy, but to do it anyway out of love and brotherhood brings a new meaning to "He Ain't Heavy, He's My Brother".
To die at the hands of an enemy is honourable, to die at the hands of your brother is heartbreak. This indescribable emotion fills the latter-half of the 20-minute piece, every gesture, every step,  every word spoken on the tiny MP3 provided, lends itself to the atmosphere. The audio playback encourages the audience to be a part of this intimate moment of the two warriors.
 As a site-specific work, it is very reliant on the site itself to carry the atmosphere and I believe that both the performers and the venue helped propel the strong narrative.
An examination of the final fight between Hang Tuah and Hang Jebat from Phani Majumdar's 1956 film Hang Tuah and Hussain Haniff's 1961 film Hang Jebat, this work brings to live its tension and lives up to anticipation.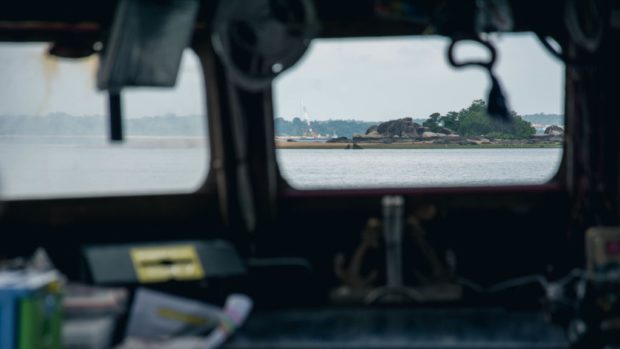 Pulau Seduku – the site of where the fight actually took place. Besides memory of the films, legend has it that a pig, an elephant, and a frog had a race to Johor, and whoever failed to reach ashore would be turned into stone. Isn't it curious?
A frog-shaped rock or a rock-shaped frog? Pareidolia is a very strange thing indeed, and an insight into how people viewed and thought of certain objects and landmasses back in the day.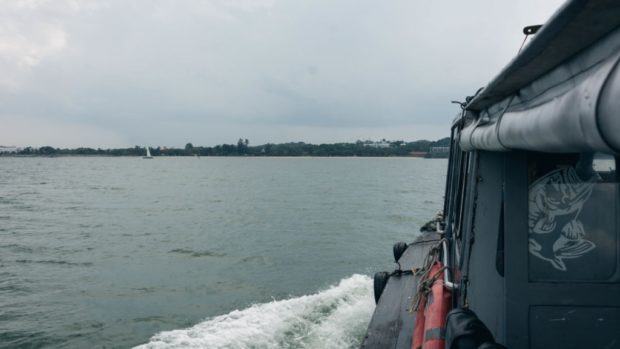 There is this certain mystery and tranquil that I associate with Pulau Ubin. A place so close to home and nature at the same time. One must wonder what other hidden gems does Singapore have, and the history behind them. Serajah Ku is only a drop in the ocean, and a start, for us as a nation to explore our roots to find out where we truly come from. Perhaps that may lead to us being able to hold this home even closer to our hearts.
---
Popspoken attended the 1.30pm slot of State of Motion 2018's offshore tour, 28th January 2018.
Stay updated and social with Popspoken: Facebook | Twitter | Instagram