The local Arts scene has been steadily growing over the past decade, with plenty of shows in various art spaces throughout Singapore and many theatre companies turning ten this year. Sing'theatre, founded by Nathalie Ribette, is also no exception.
"We look forward to the next 10 years and hope to be able to bring to the Singapore audience grander productions, as well as community outreach and education programmes!" shares the French lady who has adopted Singapore as a home for over 20 years.
Besides just putting up performances and having an academy that offers musical theatre training, the unique aspect of Sing'theatre is organising visits in collaboration with local hospitals. During the visits and events, performers and patients would mingle in songs, dance and performance as part of an engagement and outreach programme.
With a company belief to perform for a better society, Popspoken speaks to her to learn more about how Arts can be used to shape lives and heal people.
---
Popspoken: What made you choose a completely different path after 10 years in marketing and sales back in France?
Nathalie Ribette: When I arrived in Singapore 20 years ago, I had left my marketing manager role at Siemens Medical in France and was to be transferred to Siemens Singapore in the next few months. Unfortunately one of my children fell very sick and had to be hospitalised regularly, which did now allow me to take up a permanent job.
When Alliance Française hosted an open call for a musical in 1997, I auditioned out of curiosity and ended up getting cast in the main cast! It was then when the musical theatre bug bit me — and this how everything began!
Popspoken: Have you always had an interest in The Arts, and if you did, why didn't you pursue it right from the start?
Nathalie: My childhood dream was to be a professional ballet dancer. I started learning ballet when I was 6 and practised a lot — about six to eight hours every week. Unfortunately, I was not physically gifted. I was not flexible at all and despite all my efforts, my body was against me. So I came to a conclusion: to focus on my studies since I was doing quite well academically, and keep dance and performing as a… dream!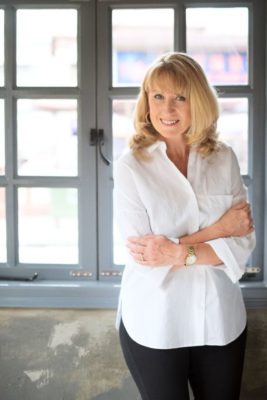 Popspoken: Were the people around you supportive of this change in career?
Nathalie: I am blessed because the people around me – mainly my husband and my children – have been very supportive and involved since the beginning. My husband is a singer, guitarist and composer himself but he has always kept his skills as a hobby – someone has to make a living! Joking aside, I would never have been able to achieve what I have now without his trust, encouragement and support.
Popspoken: Share with us your experiences in finding your way through the local theatre industry as an expat back in 1996.
Nathalie: After my first musical performance at the Alliance Francaise, I joined an entertainment group called 'Tina and the Turners' as well as the Stage Club, the oldest theatre company in Singapore. Being part of these groups, I picked up valuable skills and techniques and met very important people in the industry, some of who have helped me make my way through Singapore's theatre scene.
The decisive moment was meeting Hossan Leong in 2002. As a lover of French culture, he guided me and introduced me to people in the industry, something he still continues to do all the time today.
Popspoken: Tell us more about SING'THEATRE.
Nathalie: Sing'theatre was founded 10 years ago with the aim of creating a cultural bridge between Paris and Singapore. In the first 10 years, our musicals and plays had a strong connection to France. 'A Singaporean in Paris', starring Hossan Leong, is our most successful production to date, having sold out at both the original 2010 production as well as at the 2014 remake.
Now, 10 years down the road with numerous community outreach and education programmes, Sing'theatre has developed with a more global outlook and a new mission that reflects what we believe in: 'Performing for a better society'. We hope to engage the public with current social issues in Singapore through musical theatre.
This motto is carried across Sing'theatre's three pillars:
1) Productions: by producing musical revues and shows that open social dialogues in the Singaporean community and promote multicultural interaction
2) Community Outreach: by making music and theatre universally accessible, especially in hospitals, reaching out in particular to the most isolated and underprivileged patients.
3) Education: by empowering youth and the community as a whole by sharing our passion for performing and providing top-level musical theatre training
Popspoken: What inspired you to found Music Fest that brings music to patients in the hospitals?
Nathalie: There are a few personal reasons — I am the daughter of a nurse and a general practitioner, and was personally in the healthcare industry before coming to Singapore – but the trigger was the death of Emma Yong.
She was my best Singaporean friend and my source of inspiration, my "muse". After her departure, I felt an urgent need to give a sense to this tragedy. Therefore, in her memory, I decided to create a meaningful event that brings music to the sick.
MusicFest @ SGH was first produced on 21 June 2013. The event was so successful that we have since staged it every year. The most recent edition was held on 26 May 2017, and featured over 350 performers and 150 volunteers from all walks of all, performing at seven different venues at the SGH campus. We have also organised similar events at NUH as well as Tan Tock Seng Hospital that run all yearlong.
Popspoken: Do you believe The Arts is the force that can bring communities together and change lives?
Nathalie: Yes I believe the Arts is a fantastic medium that brings communities together. An example is one that happened last Friday at MusicFest @ SGH, one of Sing'theatre's community outreach programmes in hospitals. During a open mic session where I was singing a French number, the musical theatre students form LASALLE arrived and started to dance and join in with "wouap do wouap". A few moments later, a ukulele band of over 70-year olds joined in the dance! It was such a unique shared moment between people of different generations, cultures and social backgrounds!
Popspoken: How has our local industries changed over all these years?
Nathalie: Our local industries have changed dramatically over all these years. The quality of shows has improved a lot with new talents being nurtured in the local performing arts schools such LASALLE and NAFA.
There are also a lot more arts companies and performances in the scene, which is great for the audience but admittedly – challenging for us producers. More recently Marina Bay Sands and its two large performing venues have also expanded the performing arts offerings. Tickets have never been so difficult to sell!
Popspoken: Do you think it is easier now for youths to pursue their artistic passions or is it still with challenges?
Nathalie: With more schools and courses available in Singapore, it is now easier for youths to pursue their artistic passions. Parents are also increasingly more accepting towards their children pursuing an arts career. However the challenge remains, as it is difficult to make a living in Singapore in the arts.
Photography credits to Anne Valluy
---
Would love to hear from a particular industry professional, or have something to share? Drop us a mail here.
==
Stay updated and social with Popspoken: Facebook | Twitter | Instagram