In a bid to tackle many of the controversial conversations plaguing our world today, Kult Gallery has taken to the toys we see on our shelves and has turned them into works of art in order to spark conversation.
"Toys are a craft that celebrate workmanship, inspire play and create a mark in pop culture. For anything significant that's happened, someone's built a toy based on it. The history of toys is a history of us," said one of Kult's curators on the subject of Kult's latest magazine, which features toys.
Choking Hazard: An Exhibition About Toys
Kult Gallery, which is an underground art studio, launched their latest masterpiece, Choking Hazard: An Exhibition About Toys in February. Choking Hazard is an art exhibit that was released in conjunction with Kult's latest magazine, which is entitled TOYS.
The magazine invited 45 artists from around the world to reinterpret facts about playthings. The gallery then rounded up 25 art pieces that took existing toys in the market and remade them into art, and put them on display at the Kult Gallery.


Toys have always been the source of a lot of controversy. Mass production, consumerism and gender have brought toys to the forefront of everybody's mind. In linking these themes, the magazine aimed to present these controversies through the full spectrum of visual culture.



The magazine featured works from artists as far as the United States of America to Japan. As it was the magazine's 20th issue, the artists that were sought after were ones who had previously never been featured in Kult. In fact, over 80 percent of the contributing artists had never been featured in Kult before. The artists were sourced for through social media, local art markets and word-of-mouth.



Artists were given facts about a specific plaything and were then given the liberty to create. What resulted from that was both disturbing and incredibly innovative. Using toys such as Barbie dolls, action figures and figurines, artists reimagined them in ways that were both morbid yet incredibly wonderful to experience.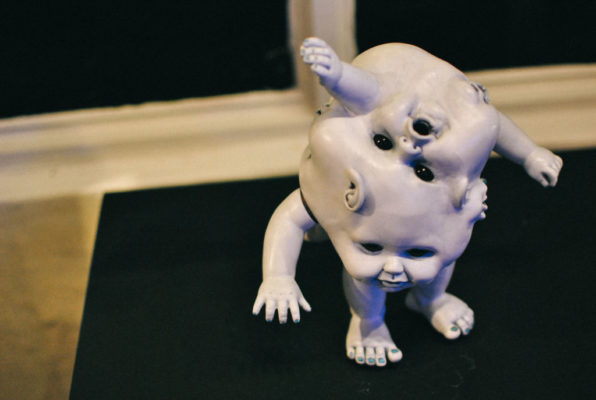 My personal favourite art piece on display was that of a Mickey Mouse figurine with Pinocchio's nose. The artist took this figure and apparently melted it into his microwave with the intent to portray how cartoons tend to lie. I can only imagine how badly his home must have smelt after melting plastic in a microwave but it must have been worth it considering the hefty price tag attached to it.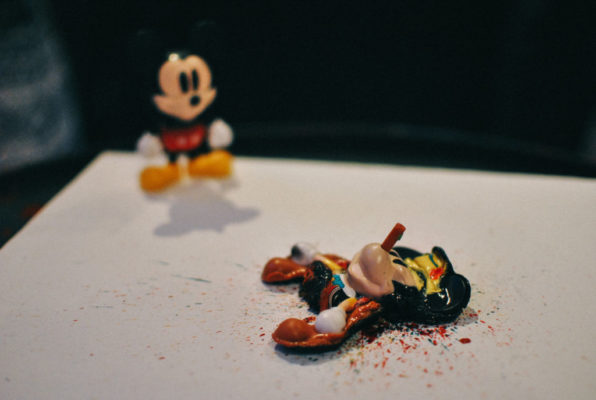 This hipster gallery is sure to please anyone who still has a soft spot for their childhood toys and will inspire even the dullest of minds. In fact, if you find yourself full to busting with ideas after a walk through the gallery, you can just stop by at the toy station where for just $2, you can decorate your own toys.
Protip: Leave the kids at home for this one.
Exhibition Period

The exhibition will run from 17th February to 18th March.
Opening Times:
Mondays-Fridays: 11am-7pm
Saturdays: 2pm-7pm
Sundays: Closed
Location:
Kult Gallery,
11 Upper Wilkie Road,
Emily Hill,
Singapore 228120
[googlemaps https://www.google.com/maps/embed?pb=!1m18!1m12!1m3!1d3988.786045750222!2d103.84604421475399!3d1.303370999049374!2m3!1f0!2f0!3f0!3m2!1i1024!2i768!4f13.1!3m3!1m2!1s0x31da19bcff9b5fad%3A0x6b6dc5e5f720c540!2sKult+Pte+Ltd!5e0!3m2!1sen!2ssg!4v1487829518322&w=600&h=450]
Photography credit: Darren 'Merovign' Tan
==
Stay updated and social with Popspoken: Facebook | Twitter | Instagram