Most kids would think that Finding Dory is likely to be yet another cute, feel-good Disney animated movie.
But for those of us who can still remember watching Finding Nemo as a kid (yes, we're talking about those of you born in the '90s), Finding Dory is more than just a sequel. Besides being a heartwarming throwback to our childhood, it reminds us that not only have we grown up, Disney has, too.
The story picks up a year after our favourite absent-minded blue tang fish teams up with over-protective clownfish Marlin (Albert Brooks), to find his son Nemo (Hayden Rolence), who was abducted by a fishing boat. The film opens with little Dory (who had us going 'awww' throughout) growing up happily with her loving and supportive parents, who helps her deal with her short-term memory loss. However, her memory ends up failing her and she is inevitably separated from them.
The next ten or so minutes are heartbreaking as we see her growing up, alone, into the Dory (Ellen DeGeneres) we've come to know and love, all the while searching for her parents….. Until she bumps into Marlin frantically searching for his son, seamlessly joining this film back to that fateful scene thirteen years ago. D'awww!
Fast forward a year later, Marlin, Nemo and Dory decide to go on yet another long-distance swim ('I thought we traveled all the way across the ocean so we never had to do it again!') – this time, to look for Dory's family. They are joined by both familiar and new faces, like Crush the turtle (Andrew Stanton), Hank the octopus (Ed O'Neill), Destiny the whale shark (Kaitlin Olson) and Bailey the beluga whale (Ty Burrell).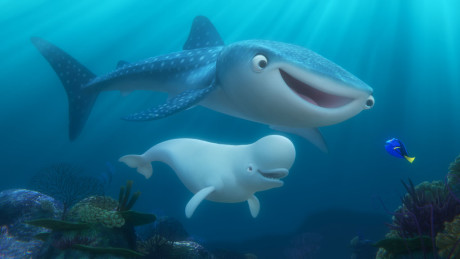 Directors Andrew Stanton and Angus MacLane did a beautiful job in showing us the underwater world through Dory's eyes. By showing us bits and pieces of her past in flashbacks, we felt like we were working with her to slowly piece together the puzzle of how she lost her family.
It was also heartachingly adorable to see how Dory remembered her family and childhood in her own little ways. Learning that her famous line "Just Keep Swimming" refrain was, in actual fact, taught by Daddy Dory had us hugging ourselves from all the feels! It really just goes to show that family will always stay with us, regardless of what happens.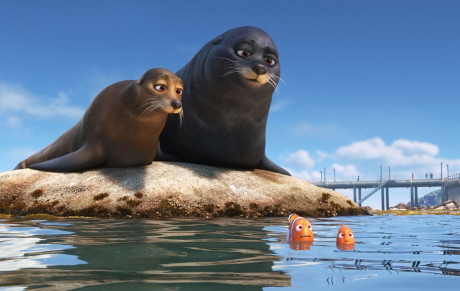 Perhaps another message that might have resonated more with older audience members was how while nobody is perfect, we can still always make the most out of it. Dory was taught from a young age to tell anyone who would listen that she 'suffers from short term memory loss'.
In the beginning, that made her more of a liability than an asset, and even Marlin tells her that it might be better not to join a school excursion as she may wander off and cause trouble. However, towards the end, we start to see how for all her forgetfulness and tendency to swim headfirst into difficult situations, she was still able to overcome her inadequacies and save the day.
Cinematically, Finding Dory was definitely as much, if not more, of a visual masterpiece as Finding Nemo was. Of course, over the past decade, CGI has probably advanced in leaps and bounds, but Dory is one of the rare animations that had us at the edge of our seats, waiting with bated breath to see how the story would unfold.
As usual, Disney masterfully took our emotions for a ride – we were laughing one moment, then struggling to hold back our tears the next. At the end of the movie, it barely felt like two hours had passed! There were enough plot twists to make it not too kiddy, and yet it was feel-good enough to make it a film for the whole family.
Thank you Finding Dory, for reminding us that the magic of Disney still exists for everyone, even thirteen years on.
Finding Dory is out in cinemas on 16 June.

Finding Dory
Directed by: Andrew Stanton, Angus MacLane
Genre: Animation, Adventure, Comedy
Running time: 105 minutes
Rating: 4/5
=
Stay updated and social with Popspoken: Facebook | Twitter | Instagram