With a 97% approval rating on Rotten Tomatoes, you might imagine "Captain America: Civil War" to rank among the greatest films Hollywood has to offer. Thankfully, you're not that far off. The sequel to "Captain America: The First Avenger" and "Captain America: The Winter Soldier" has yet to arrive in cinemas, but is already outselling all previous Marvel films at the same point in the sales cycle!
Profits aside, the film takes place a year after the events in "Avengers: Age Of Ultron", where substantial damage was dealt to the city of Sokovia. "Civil War" begins with the genetically-blessed team of superheroes creating yet another mess in their pursuit of justice, causing public opinion to turn on them. The "vigilantes" are forced to come under a governing body, who will decide when and where they are needed.
Perhaps acting as the perfect metaphor for America, Steve Rogers (Chris Evans) vehemently refuses to sign the regulation treaty in the name of freedom. This puts the Captain completely at odds with Tony Stark (Robert Downey, Jr.), who rains both sarcasm and snark in his face, along with quite a few punches.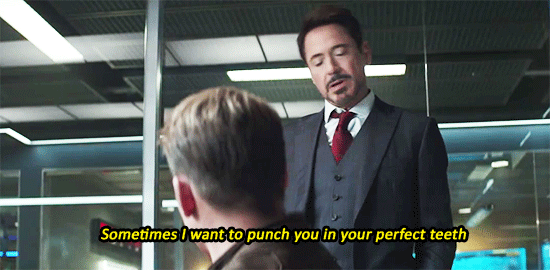 Having just a couple of heroes hold down an entire plot never makes for good cinema (we're looking at you, DC). In true Marvel fashion, more is more. The surprisingly well-balanced 6-on-6 fistfight comes in the form of Captain America, The Winter Soldier, Falcon, Scarlet Witch, Hawkeye, and the excitable Ant-Man on #TeamCap; and Iron Man, Black Widow, War Machine, the Vision, Black Panther, and a teenage Spider-Man on #TeamIronMan.
With #ChooseWisely as the official hashtag at the press conference held last Thursday, it's not difficult to get sucked into the well-crafted marketing ploy. While Chris Evans' on-screen magnetism has been on a decline since his starring role in the first "Captain America" flick, he more than makes up for it with his pretty boy looks. #TeamCap may be straddling the wilder left wing in this ideological conflict, but the Captain's repeated excuses of "I just can't" does little to explain the severe escalation of the conflict.
On the other hand, Robert Downey, Jr. steals the show with his uncharacteristic silence. Never one to shy away from Sorkian levels of chatter, the first half of "Civil War" sees the literal man of steel remaining mum about his motivations behind agreeing to government regulation. Many dissonant factors are at play in Downey's character, from a renouncement of his liberal attitude to his righteous fury that's peppered with off-the-cuff jokes. Tensions come to a head in the final scenes of the movie as Stark is forced to face his innermost demons.
Scarlett Johansson presented a particularly noteworthy performance of Black Widow; one that might just wrench her free from sexist interview questions. Johansson's portrayal is one of betrayal – her analytical mind views Stark's pacifism as the right choice, but her heart aches for Rogers' staunch rejection of the treaty, a sentiment she eventually acts on. Giving Natasha Romanoff some depth and moving on from a one-dimensional sex symbol status is a step long overdue for the Marvel brand.
The introduction of Spider-Man (Tom Holland) and Ant-Man (Paul Rudd) into the Avengers universe is nothing to scoff at. Both are scene-stealers in their own right, playing pivotal roles as excited fanboys in a massive brawl between both sides at an aircraft hangar. The "newbies" provide most of the laughs in a fight scene that would have otherwise felt too drawn-out and gimmicky.
"Who are your favourite heroes or villains?" #TeamCap #ChooseWisely pic.twitter.com/y1ZEeh2lDK

— POPSPOKEN (@popspoken) April 21, 2016
"Civil War" takes the age-old playground question of "Who do you think would win in a fight between A & B?" and answers it in a much better fashion than "Batman v Superman", which was panned by critics the world over. While the latter spent too much time welling in its own melodrama, "Civil War" did a great job with the film's pacing, keeping the action-packed experience light with cameos and glimpses of warmth between the feuding friends. Not one minute of the flick was wasted, and that, truly, makes for marvellous cinema.
There may or may not be a post-credits scene. You have been warned.
Directed by: Anthony Russo & Joe Russo
Genre: Action, Fantasy
Running time: 147 minutes
==
Stay updated and social with Popspoken: Facebook | Twitter | Instagram