After a sold-out run of Mosaic during M1 Fringe Festival 2015, Take Off Productions is back with a double bill to be staged at the Woodlands Regional Library. Running for only two days – from 19th February to the 20th, this production We Used To Be Close features two original plays written by two chosen ones from the library's very first playwriting residency for below 25.
Sabrina Dzulkifli and Euginia Tan are chosen based on their quality writing as well as their active imaginations. Mentored by local playwright Joel Tan from February to July 2015 through the writing phase, it has been a journey of drafting and cracking their creative brains. Now, they will be taking their works to the public with a team of professionals. Bringing it right back to the library, it will be a great invitation to the nearby community to experience theatre right at home.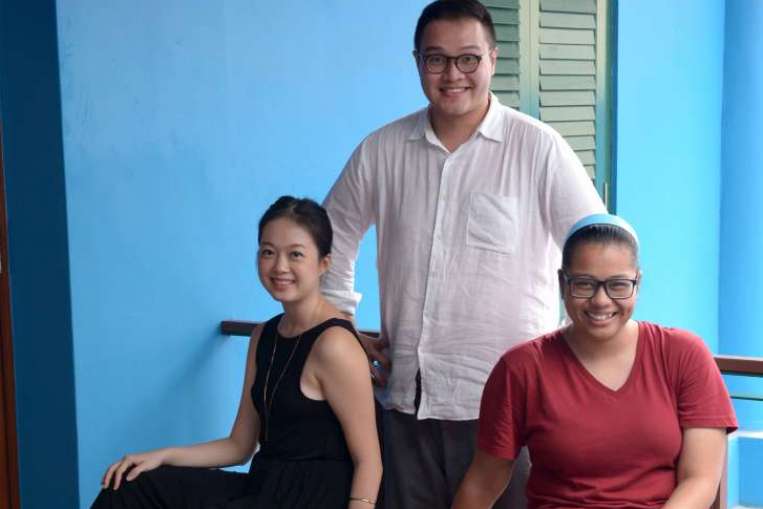 After all, which better place would there be to share tales of friendship, family and communication? Sabrina and Euginia talks plays, perspective and body language.
---
Popspoken: How did you find out about the playwright residency programme?
Sabrina Dzulkifli: I'd met Joel at a playwriting workshop with Checkpoint Theatre. He told me about the residency and encouraged me to apply, and I did. I'd seen some of his works before, and I really enjoyed his voice and approach, and thought I'd be able to really take away a lot of things from his mentorship.
Euginia Tan: I found out (about the programme) from the Go Arts page on Facebook.
Popspoken: How did your interest in playwriting come about?
SD: Kinda always been writing, somehow ended up doing playwriting. School was a big part of it – I studied theatre at SOTA.
ET: I like reading plays. I think Haresh Sharma's "Those who can't, teach" and Eleanor Wong's "JBJ" were my favourites. I would really like to read Ming Wong's "Chang and Eng."
Popspoken: What was your favourite part of the entire process?
SD: Going into rehearsal for the preview and realising I'd stuck with this project for nearly four months. And that I get to see it grow and develop further in the capable hands of industry professionals (Shoutout to Joel, Yingxuan, Nessa and Shafiqah!)
ET: Reading new plays and writing scenes according to weekly themes; experiencing rehearsals too is cool – watching your words come to life by yourself is something more intimate and personal than sharing them with an audience though of course that would be really special too.
Popspoken: Describe your experience in three words.
SD: Facing internal truths.
ET: I'm gonna use one word and that's a Hokkien slang my dad uses to tell me when he's curious and excited about a particular thing (not sure if it's the correct spelling): HEYLAN.
Popspoken: Biggest takeaway?
SD: Writing isn't really about getting the words on the page for a first draft. The real craft is the editing and endurance in continuing to focus and temper your thoughts and words.
ET: Looking at situations from different angles.
Popspoken: If you had the chance to write in any other language (including sign or body language), which would it be and why?
SD: Oooh, tough. Would love to experiment with body language and multimedia (that counts, right? – visual language? Haha). You can't deny that the influence of the Internet and the digital landscape on the everyday is very much present, hence the multimedia. But we can't lose our connection to the natural world either, the world of nature and animals, of flesh and bones and the things that are innate to our muscles and heart. So a dialogue between physicality and multimedia is something I'll always be interested in. (Shoutout to my friend, Ryan Benjamin Lee, whose art practice started me thinking of these things.)
ET: Mandarin, hands down. I would like more xiangsheng theatre to come back please! I'm a huge fan of Han Lao Da!
---
Date: Feb 19 – 20, 2016
Venue: Woodlands Regional Library Auditorium
Admission: Free (Register for a seat here!)
Advisory: 16 & above
==
Stay updated and social with Popspoken: Facebook | Twitter | Instagram