It was a night of firsts for the Asian Television Awards (ATA): the first time in its 20-year history that it was split up into a gala night dinner and a "live" awards component the next day, the first time it had a YouTube star in Munah Bagharib hosting the show, and the first time it had glitzy performances from the likes of Indonesian-French diva Anggun and K-Pop girl group Secret. (Did we mention it was the first time the ATAs were on Snapchat as well?)
But for veteran Singapore actor Lim Kay Tong, it was twice the charm.
Lim was the only Singapore actor to win at this year's ATAs (Dec 3), nabbing the Best Supporting Actor win for his role in the HBO Asia drama Grace. He previously won in this category in 2010 for his role in the critically-acclaimed MediaCorp Channel 5 drama The Pupil.
And here's the best part: Lim was not present at the show until just a few minutes before his category was called up. His reason? Just like any other normal human being, he has errands to run. (He is also a grandfather and, yes, sometimes helps out in babysitting duties).
But that's not to say he wasn't happy with his win. The acting veteran said his happiness is a bit more measured these days.
"I'm quite relaxed about (the win). When you're young, you're hungry. Almost 40 years into my career now – my expectations aren't very high. It's a bonus to get the award," Lim said to reporters after the awards ceremony. (The win is reflected on his Linkedin profile.)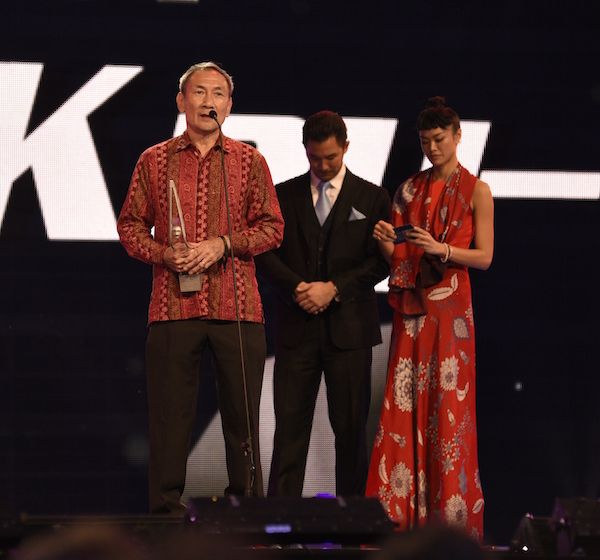 In his acceptance speech, he credited the win to HBO's gumption in hiring a cast and crew made mostly out of Singaporeans and setting high expectations for production and cast quality, which allowed the local team to truly shine.
"The director gave (the actors) a lot of creative space and all the actors had the freedom to be creative. I was gratified to HBO – an international outfit – to have the faith and the trust (in Singaporeans). The fact that they were nominated for eight awards (at the ATAs) shows the quality of the projects and the potential in the future for international projects to have Singapore-based creative talent, not in the sporadic way that I have been used to, but in a continuous way," said Lim.
Lim hopes that Singapore talent are given even more opportunities to shine on the international stage, especially when he believes the city-state is still at its infancy as compared to other entertainment giants such as China and Korea. In his words, "we have some catching up to do".
But for someone with such an illustrious career, Lim still feels he has a long way to go. When will he retire? "I don't know, until I drop dead, I guess. I saw (the late British actor) Sir Ralph Richardson staggering on his feet and he was 80 years old (at that time). You just hope that you'll always be at work, you'll always be employed."
That's why Lim believes perseverance is a trait younger actors today need to have. "Just keep going. I'm still enjoying it, and I think that's why I'm doing it. Stay competitive: it's a big world out there. There's a lot of hard work."
The gala dinner night happened the day before (Dec 2), where creative and technical awards were handed out. Among the Singapore winners were Channel 8 (Best Theme Song, The Journey: Tumultuous Times) and Channel NewsAsia (Best Social Awareness Programme, Little People, Big Dreams).
While HBO Asia received a nod for its efforts in original content (Best Editing, Steve Evans for "Grace") MTV Asia won Best Entertainment Show (One-Off/Annual) for MTV Music Evolution Manila Hip-Hop 2015. Hosting the gala dinner were half of the four hosts: Max Loong and Munah (pictured above). The other two hosts were Joey Mead King and Allan Wu. All four are represented by FLY Entertainment.
The ATA wins are decided by a panel of 63 judges from the Asian television industry. Discovery and MediaCorp ended up big winners that night, sweeping the top four awards for terrestrial and cable channels and networks.
Lim Kay Tong photos courtesy of Asian Television Awards
Stay updated and social with Popspoken: Twitter | Instagram | Facebook