By Andre Frois
"Life teaches you how to live it if you live long enough."
A compelling story told through video clips mostly from the camera phones of numerous family and friends, "Amy" recounts the rise of the musical savant who initially doubted that music would ever be her career.
Born in Southgate, London, singer-songwriter Amy Winehouse captured the world's attention with her rich soulful vocals, her succinct lyrics, and most significantly, her bender of a lifestyle that ultimately claimed her life at the tender age of 27. While some might enjoy the humanity of this documentary, this feature film's predictability might fail to amuse others.
Besides the tediously obtained and remastered smartphone footage, which is coupled with rare still images and voice clips, this unabridged retelling of the late starlet's life also differentiates itself from other rockstar biopics by placing Winehouse's vices in full frontal view of the audience.
Through the accounts of first-hand witnesses like Winehouse's friend and eventual manager Nick Shymansky, her best friend Juliette Ashby, and her manager and eventual ex-husband Blake Fielder, Amy takes the ardent Winehouse fan and the casual cinema-goer alike through the same gauntlet of facets: Amy the daughter, the granddaughter, the manipulator, the victim, the quick-witted comedienne and the groundbreaking jazz virtuoso.
As Asif Kapadia's (of "Senna" documentary fame) film sets up each compartment of her psyche – such as her kind and self-destructive personalities – and the retrospective film's heroes and villains take turns to exchange roles, one cannot help but feel guilty for funding at least a sliver of the media monster that eventually slew this fair-skinned maiden.
From going to rehab sprang Winehouse's namesake album, which ironically catapulted her so high that she struggled to breathe.
Best remembered for her almost single-handed popularisation of a style of eye makeup, the beatified Winehouse is now mentioned in the same sentences as her idols like Billie Holiday and Ella Fitzgerald, despite having only two studio albums under her belt. This beautiful depiction of honesty and hope takes its viewer through some truly enthralling though predictable emotional highs and lows, while magnifying the unparalleled lyricist that the world lost.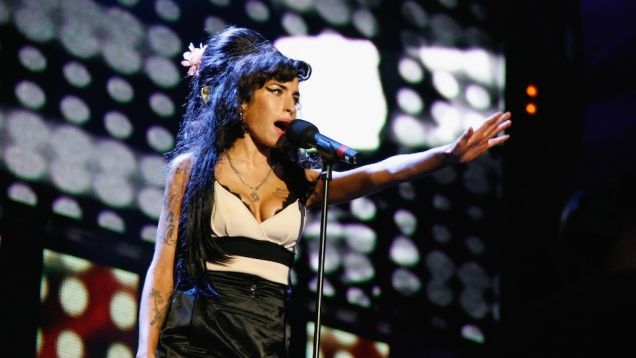 While being perpetually hounded by the paparazzi and milked by promoters for all her worth, Winehouse's voice is heard verbalising her emotions over the theatre's speakers, lamenting, "if I could give it back just to walk down that street with no hassle."
As she is seen once again thrust upon stage, visibly spent and at wit's end, a member of the raucous hordes yells out, "sing!" When she refuses to, one can hear a pin drop in the theatre.
Amy is now showing in theatres.
Directed by: Asif Kapadia
Genre: Documentary, Biography, Music
Running time: 128 minutes
Rating: 2/5
=
Stay updated and social with Popspoken: Facebook | Twitter | Instagram