Capturing the mystique of his muse, a shapely lady painted in ambiguous settings, he teases us with snippets of her disposition, pursuits and lifeway. Bewitched by her elegance and charm, the materialisation and immortalisation of his fascination allures with its romantic textures.
Ongoing at Barnadas Huang Gallery until Dec 19 is an exhibition, namely Muse, by Didier Lourenco, a 46-year-old Barcelona-based artist who got his start at 19, printing lithographs in his father's atelier. Not only does it mark his solo debut in South-East Asia, the exhibition observes the gallery's first birthday as well.
The contemporary fine art gallery, which devotes itself to the exposure of European art to Asian markets, will display some 20 oil paintings by Lourenco – a handful of which are from his new Invisibles series of paintings, depicting his muse camouflaged in a collage of mini portraits.
His works will be paired with a personalised music playlist, curated by the artist himself to craft the ultimate atmosphere in which to absorb the art pieces; it's a unique addition the gallery owners highly encourage for each showcase.
Through the connective powers of email, we get the Spanish veteran reflecting on the value of art, sharing his idea of the ideal powwow with inspiration Pablo Picasso, and elaborating on his body of work.
—
#1: Painting is the way I feel the most comfortable expressing myself.
#2: I think if an artist paints honestly then his personality is always on the canvas.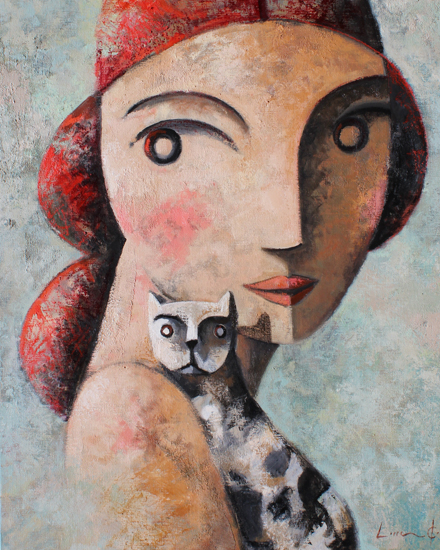 #3: For me, painting is always a struggle mixed with enjoyment. It is all based on the process of solving a problem. To me, a painting is the conclusion of many solved problems.
#4: It would be a pity to share a tea with Pablo Picasso. I would prefer to share a good bottle of red wine in his studio.
#5: Music is like a companion in the studio.  Many times, I prefer music with no words so I am not distracted. I usually listen to classical music. It always depends on my mood.  And many times, when I am finishing a painting, I like to be with this good friend called silence.
#6: I have never in my life had a gallery ask me to share songs I listen to to play during an opening or an exhibition. This is also the first time I have had dinner in a gallery, and it was an interesting experience. The songs that were playing in this occasion are songs that are important in my life.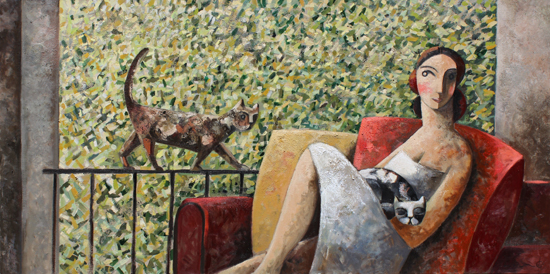 #7: Many Catalan artists would come to my father to print their lithographs and it is from my interaction with them that I started to get the motivation to paint.
#8: As a self-taught artist, in order to improve, I have to give myself a big motivation to solve, in my own way, all the problems I find in my way. Solving these problems is how I improve each and every day.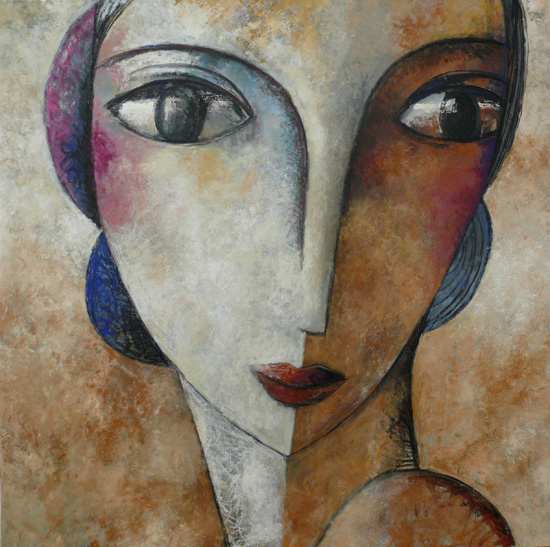 #9: The woman is a very important part of my work for showing sensitivity, sensuality and beauty. Through my paintings, I want to show all of these sensations in many different ways with the woman as a main character.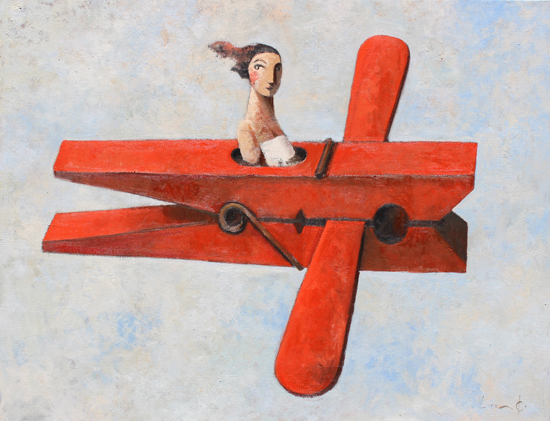 #10: If we consider "art" all the arts (music, architecture, dance, etc.), I can say that art is something that has to touch your soul.
#11: As a painter, and talking about painting, I always consider something a "good piece of art" based on the following two conditions: (1) The painting is well realised. (2) It has to have an idea behind it.
—
Exhibition Details
Title: Muse by Didier Lourenco
Venue: Barnadas Huang Gallery
Date: Now till Dec 19, 2014
Photo credit: Barnadas Huang Gallery