The Hundred-Foot Journey is a feel good film, and it revolves around an Indian family crossing swords with the proprietress of a renowned French restaurant. It seeks to enthral moviegoers, a refreshing divergence from your conventional American film. Despite the noticeable French and Indian themes in the film, there's just something familiar about this film; that producers Lasse Hallström and Oprah Winfrey have clearly exerted American influences during production. Also, ardent followers of Steven Spielberg will quickly notice that The Hundred-Foot Journey is laced with his signature low-height camera perspectives.
Despite boasting a well-crafted script and aesthetic views of the French landscape, the film runs the risk of veering into a dishevelled, nonlinear plot.
The characters' obsession (most notably Madame Mallory) with obtaining Michelin stars for a restaurant seems to mirror that of the film producers' in making the perfect film. With Hallström, Winfrey and Spielberg, we are looking at industry heavyweights who boast numerous accolades in their respective fields.
However, viewers who haven't read the novel will be bewildered by the startling thematic twist – it appears as if the sparkle from the developing storyline is lost during Hasan's avant-garde chef escapades in Paris. In fact, the overwhelming concurrent storylines could prove to be overwhelming for viewers. What started out as a quirky tale of an Indian family's misadventures in France quickly turned into an aspiring chef's journey to stardom, which then begs the question – was there really a need for a cultural integration?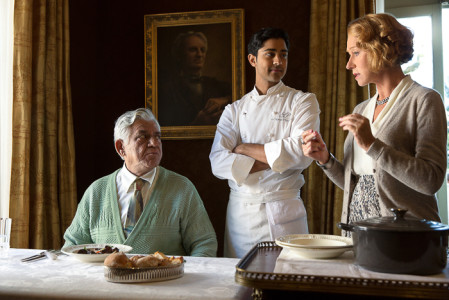 But don't get us wrong though, there's just so much one can fit in 122 running minutes. Boasting an all-star producer line-up; perhaps this is a case of "too much of a good thing is a bad thing", or rather "too many cooks in the kitchen spoil the broth".
Most of all, The Hundred-Foot Journey manages to take every cliché known about Indian families, put a playful spin on it and weaves it into a fabric of droll French humour. Also, Helen Mirren's portrayal of stuck-up restaurant owner Madame Malory is a timely reminder of Mirren's talent on the big screen, but Om Puri's performance as Hasan Kadam's headstrong father definitely steals the limelight. They quickly share a lovely on-screen chemistry despite all the culinary rivalry at hand.
Viewers will be treated to one of the highest points of the movie when all the hatred is quashed between restaurant neighbours – the ambitious Hasan decides to work for Madame Malory's upscale French restaurant. The iron chefs decide to lay down their proverbial knives and make up, albeit in quirky fashion with Papa Kadam's "almost girlfriend" dialogue making the better half of the cinema chuckle.
The Hundred Foot Journey premieres in Singapore on 28 August.
http://www.youtube.com/watch?v=yEO1TWeM5JU
Thanks to Walt Disney Studios Motion Pictures for hosting us at the movie preview.