Cheek cramps, tummy aches and happy tears were aplenty at the Dream Academy stand up show, Happy Ever Laughter. Back with eight new comedians and a bunch of comedy firsts for some, this year's show was filled with surprises and underestimated talents, and for the audience, 1½ hours of total freedom and idiocy—accidental snorts when laughing is extremely recommended.
Without further lollygagging, let's find out how well the 13 comics did on our Laugh-O-Meter.
Selena Tan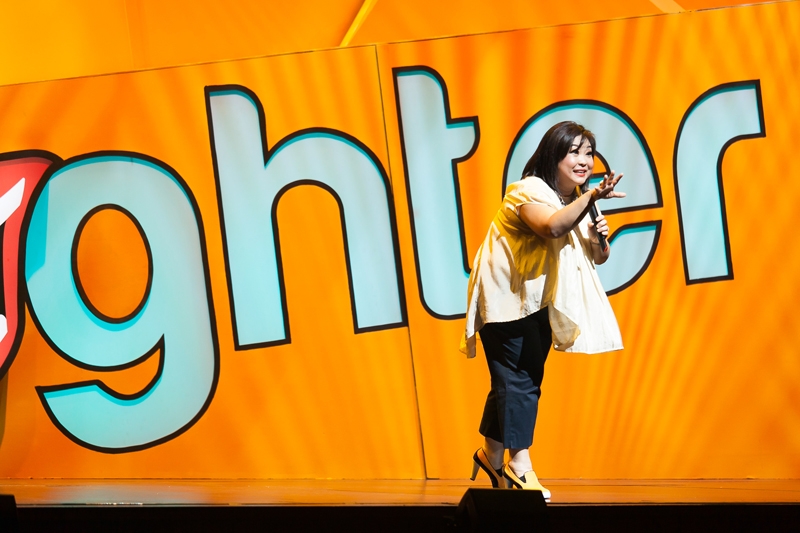 Kicking it off was Selena, the director and emcee of the show, with jokes tucked into her pocketful of anecdotes to warm the audience up for the line-up. She was the closest thing Happy Ever Laughter got to a hype girl, cutting capers right off the bat without an inch of restraint or diffidence.
Laugh-O-Meter: HAHA
Zulkarnain Sadali 
When you're tasked as the youngest and newest member of the cast to open a show as huge as Happy Ever Laughter, you'd be getting comfortable with the term, "pressure". But for Zul, he was armed with all the guts and swagger to pull it off. And yes, like a giant teddy bear, he was funny and adorable too.
Laugh-O-Meter: HAHA
Fakkah Fuzz
You don't know him yet, but you will in time. Fuzz, another Happy Ever Laughter newbie, is one you'd underestimate first, but turn out to be the one to surprise you most of all. Reaping oodles of belly laughter through his racist gibes, he had outdone some of the most seasoned comedians who graced the stage that day. Just get him to show you how Indians die on television and you'll know what I mean (Word of advice: Don't forget the tissues).
Laugh-O-Meter: ROTFLMAO
Karen Tan
Donning a bleak, formal costume, Karen transformed into a stiff civil servant who speaks with hypernasality. As if that Noose-like character wasn't enough to tickle us, she went on with a whole monologue about taking initiative. Sounds pretty mundane in writing, but Karen takes it to a level so ridiculous, there's no way to sit through her act with a poker face, which she so skilfully maintained on stage.
Laugh-O-Meter: LMAO
Sebastian Tan
Otherwise known as Broadway Beng, Sebastian is the king of rapid-fire Hokkien talk. I'm not going to lie; I couldn't understand a single word of dialect, thus missing out on a few punch lines. But there's no question that none of the audience could've missed his priceless Hokkien rendition of Bruno Mars' Just The Way You Are—wholly absurd and every inch the genius.
Laugh-O-Meter: LOL
Hossan Leong
One look at the petite man and you'd never notice the crow's feet and other hidden creases letting slip his real age. One look at the way he prances around the stage and you'd think he's immortal. Despite his hilarious rants on the side effects of getting old, Hossan had, once again, proved to be animated as ever, scoring highest on physical gags.
Laugh-O-Meter: HAHA
Judee Tan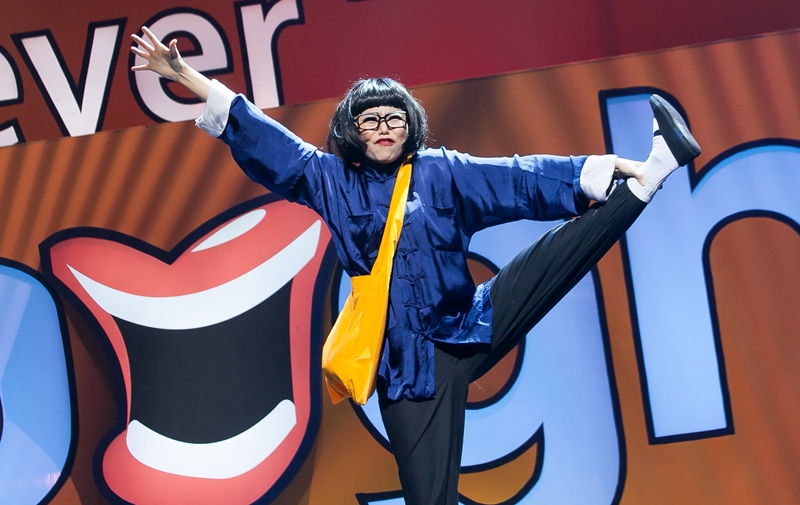 Back as Dr Teoh Chew Muey, Judee went method and got into the suit of a traditional Chinese doctor. With a squeaky voice and an eccentric persona, she somehow was able to weave a drug reference into the old Chinese tale of Chang'e, the goddess of the moon. And guess what, it works!
Laugh-O-Meter: HAHA
Siti Khalijah
The thing I love most about Siti is her mammoth personality. When she's in character, wig and tutu skirt included (or not), she's all sass and confidence. Self-deprecation is not a term this minah understands or spells correctly. Be it stand up, singing, acting, or dancing (which she did a whole lot of), there's honestly nothing this girl can't do.
Laugh-O-Meter: LMAO
Rishi Budhrani
Having inherited quite a large (long) face, it'd be a waste if Rishi didn't make at least one or two horse jokes, but it'd be a bigger waste not to reference body proportions (You know what they say about men with long faces…). What brought down the house was his insanely entertaining and oddly accurate display of Mandarin-speaking chops whilst re-enacting his encounter with Chinese contractors. And there's nothing an audience loves more than multilingualism.
Laugh-O-Meter: LOL
Mark Lee
After 25 years of bringing hilarity as the genuine beng, Mark finally made his English stand up debut! Where better to start than on the Happy Ever Laughter stage? Sharing his life story on stage, from his first day on the Police & Thief set to his first attempt at getting endorsements, his monologue was peppered with anecdotes, each one more hysterical than the last. At one point, he mimics the Caucasian accent, nuances and all, with hilarious inaccuracy.
Laugh-O-Meter: LMAO
Pam Oei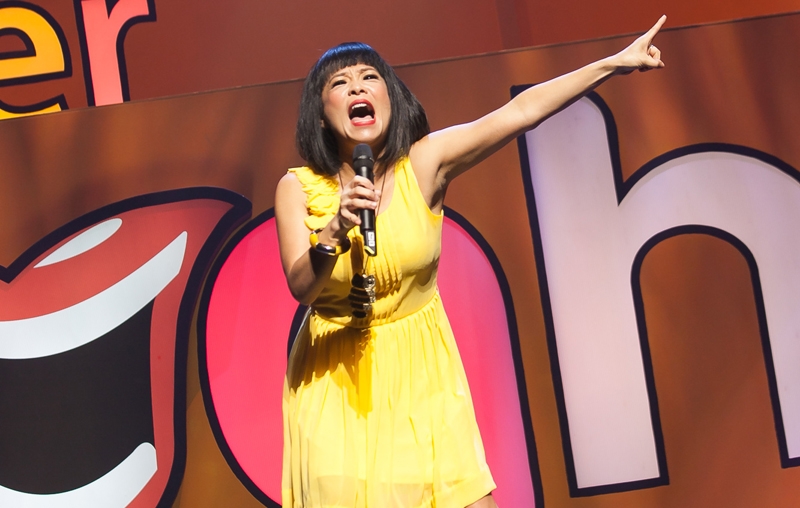 As if cutting out a scene from What To Expect When You're Expecting, Pam was all about the motherhood and impressions of her son during her time on stage. Did it matter if you're not a parent yourself? Absolutely not. Pam took her pains and turned it into our pleasure—clearly, a sign of what parenting does to you.
Laugh-O-Meter: HAHA
Adrian Pang
There are two types of comedians: ones who act funny and ones who are funny. Despite the immense talent he carries as a seasoned actor, Adrian happens to fall into the latter category. After witnessing his (seemingly) improvised interactions with the audience, we can't help but feel he's truly hilarious in nature. As his first ever stand up performance, he had definitely exceeded expectations, pulling amusing tales from his time with Channel 8 dramas. One of his standout acts was undoubtedly his British impression. It's no joke when I say he sounded like Rowan Atkinson playing a funny character.
Laugh-O-Meter: ROTFLMAO
KUMAR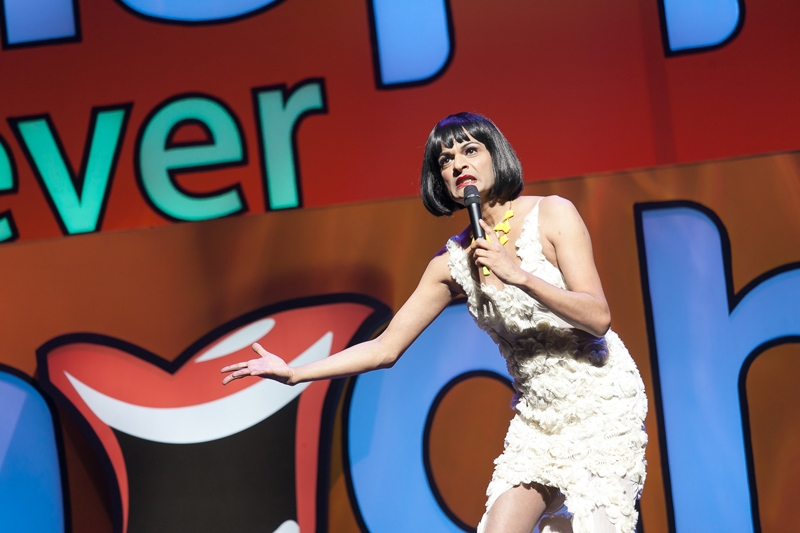 The one who wore more makeup than the ladies of the cast, it's Singapore's favourite drag queen. Rocking a new bob and a bedazzled white dress, Kumar was his usual flamboyant, explicit self. The topic of the day: Visiting an adult shop. And as you'd expect, half of the story was about how he almost entered, but kept walking straight ahead instead. Did I say he was Singapore's favourite drag queen? Scratch that. He's Singapore's favourite Indian, period.
Laugh-O-Meter: LMAO
Photo credits: Dream Academy