Have you ever pondered over the origins of the piece of fabric you wear on your skin or the people who made them? CON$UMED exposes and explores the true horrors of consumerism, touching upon the issues of cheap labour, borderline slavery and the extremity of shopping behaviour.
It centres upon a rags-to-riches couple (played by Oon Shu An and Tim Nga) that starts a retail company named Behemoth. A quick dictionary search will tell you "behemoth" not only means "a huge organisation", but also a "monstrous creature". And true to its definition, Behemoth did turn into somewhat of a monster as it grew in popularity, resulting in uncontrollable shopping frenzies and even tragedy.
Heading the production as its director is Edith Podesta, who teamed up with multimedia designer Brian Gothong Tan and lighting designer Adrian Tan to create this original theatrical piece for the NUS Arts Festival 2014.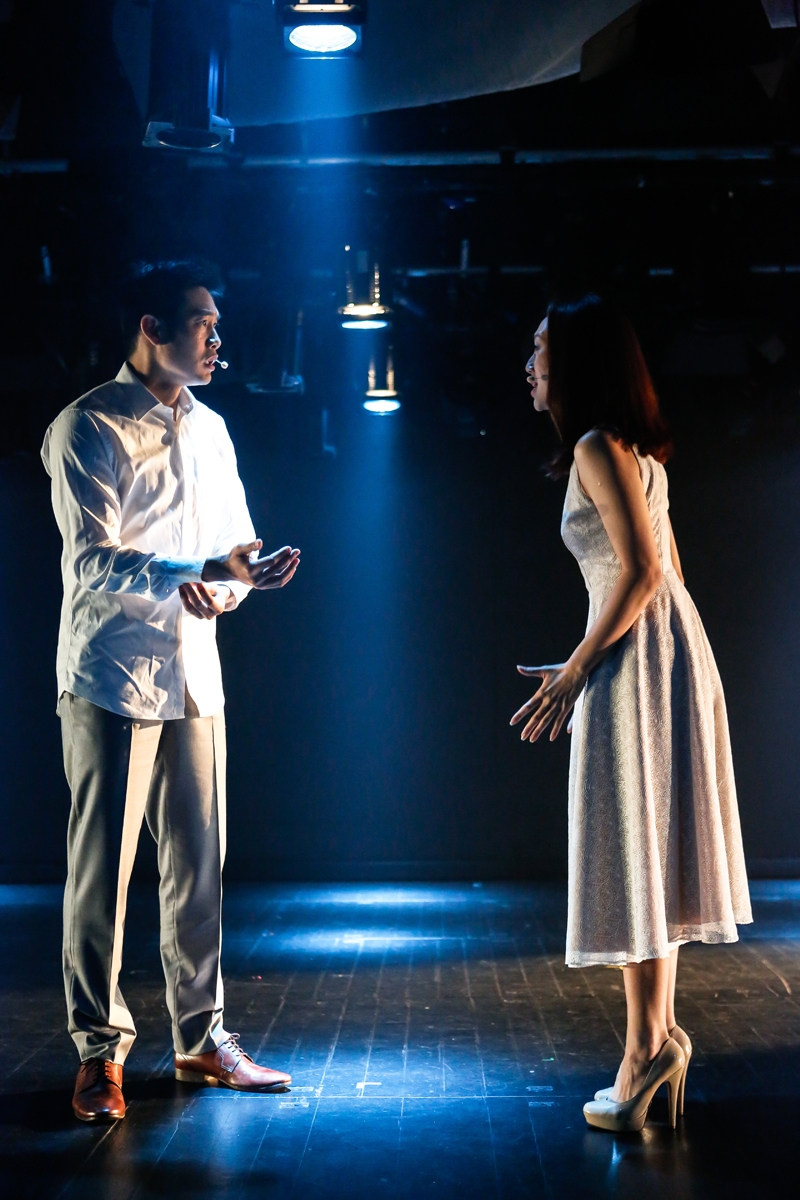 CON$UMED bursts with artistic and poetic sense, from the script (a few characters literally recite poetry) to the set (it morphs continuously and surprises us with the ingenious incorporation of projections).
Five minutes into the show and we are already presented with an admittedly draggy yet refreshing use of a video projected onto the white, blank walls of what seemed like a house. It is later revealed to be a live recording of what went on inside, as the actors emerge from the structure at the end.
As the story continues, we are introduced to the cast of 16 members, from which Behemoth's fashion buyer Bella (played by drag queen and costume maker Eugene Tan) stood out the most, visually in particular.
Another visual treat came in the form of a dramatic yet comic video in which the three fashion buyers, Bella, Muneer (played by Fauzi Aziz) and Jaygee (played by Jaryl George Solomon), battle it out slow motion in the big "shopocalypse" store sale.
Did I mention it was projected onto a pull-down screen that creates a partition between the stage and the audience? It becomes a translucent prop to a scene revolving around a power point presentation (the prop being the presentation screen), and due to its semi opaque nature, we see both the presentation as well as the characters presenting it on the other side.
The only flaw with the multimedia embellishments is the danger of stealing our attention from the main performance and the occasional glitch, despite bringing a cinematic quality to the stage production.
The same prowess, however, could not be found in the acting. Despite the presence of exceptional bits, there was always a certain element every actor fell short of. For many, it was the lack of enunciation. Amanda Aw (playing the shopping trainer) and Julfri Kosasih (playing the sonic manipulator) are two cases in point. On the contrary, Amanda impresses with her fervour of delivery and Julfri holds much comedic potential. Playing lawyers, Jey Jun Jie and Mark Ng might have thrived as comic relief characters if not for their incomprehensible, fast-paced speech.
The one performer who caught my attention was Rahul Ghai, balancing two polar roles often overlooked—one a dramatic and eloquent narrator, the other a humorous and carefree Indian security guard-cum-closet poet.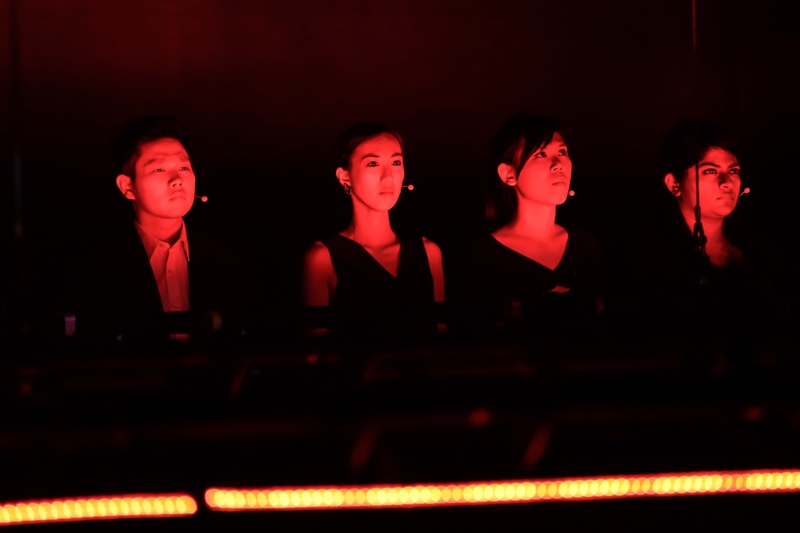 CON$UMED's comical start plummets swiftly to a heavier note when stories of forced labour victims spill onto the stage: "Children sewing in their underwear… No childhood, no wage, no safety, no daylight."
Some may attribute our contribution towards consumerism to necessity or passion, while others admit to it as an indulgence of pure pleasure. It nonetheless does not eliminate the existence of a population who owes its sufferings to this very phenomenon.
In practice, we don't think about consumerism. We just buy. But we've been led to consider its consequences by CON$UMED, a production that penetrates uncommon technical and artistic territories, ones that far exceed expectations. Assuredly, you can trust a show like this to leave everyone shaken and with wider perspectives.
Photo credits: NUS Centre For the Arts