Slipping on a pair of heavy boots, he colours himself green as he takes on the role of army recruit Ken Chow from the highly talked about and highest grossing film franchise in Singapore—Jack Neo's Ah Boys To Men.
No, I'm not referring to Joshua Tan, the original Ken Chow, who is currently preoccupied with scholastic commitments at the Monash University in Australia. I'm speaking of his replacement, Benjamin Kheng, better known as the heartthrob with silky smooth vocals from folk-pop outfit The Sam Willows. He'll be taking the lead role this April in Ah Boys To Men: The Musical, which in short is the theatre edition of the two movies combined, injected with a lot more singing and dancing.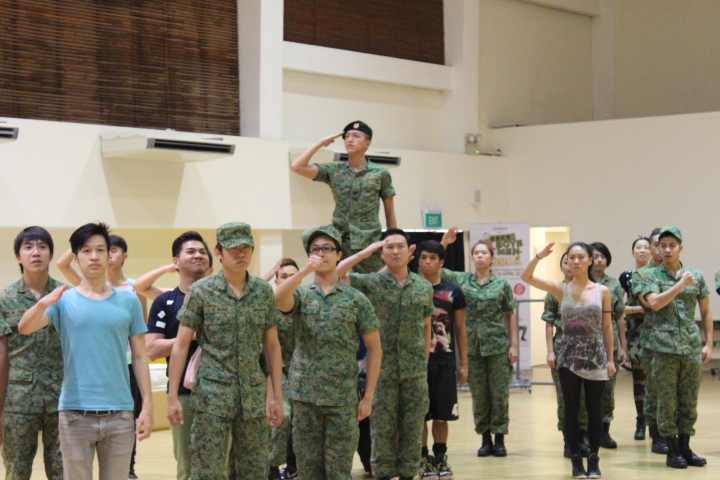 With a polished personality such as his, we can't help but wonder how Benjamin would cope with this diamond-in-the-rough character, especially in the sea of army Ah Bengs (Gangsters). To better guide this stage production, Jack Neo hands over the reins to Beatrice Chia-Richmond who will be directing the musical.
Featuring the usual army boys (Tosh Zhang, Wang Weiliang, Maxi Lim, Noah Yap) and a few celebrity cameos (Patricia Mok, Richard Low, Chua Enlai), the musical centres on Ken's escapades as a new recruit. Here, the 23-year-old star talks about his preparation process, and the difference between the Ken Chow from the silver screen and the Ken Chow on stage.
—
Tell me about your character.
I play Recruit Ken Chow! The Ken I play in this musical is slightly different from Joshua's in the films. I think his family's gotten a little crazier this time, which gives him a much stronger impetus to act out. Also, he sings and dances quite a bit here. But he still starts off a little bratty and learns invaluable lessons on his way through army.

What were your initial thoughts when approached with this idea of staging a musical for Ah Boys To Men?
I was pretty stoked. I've always wanted to work with Beatrice Chia (Director) and Don Richmond (Music Composer), and the boys themselves, of course. I loved the films and I enjoyed my own time in army (sort of), plus musicals are always a ton of fun.

What are you doing as preparation for the show?
Well, I'm going to shave my head. As a cast, we've also been going through 9–10 hours of rehearsals per day. Singing, dancing, marching drills, fighting, dancing, rifle drills, scene work, dancing, dancing… did I mention dancing? Yes, we've also been dancing. A lot.

Any difficulties or challenges?
The show in itself is a massive cardio session. I'm completely spent after a run, but the emotional and physical high you get from going at it with actors that you trust, and having a ball of a time is indescribable. Also, any weight that we lose during rehearsals is immediately put back on thanks to mad cast-suppers.

What are your personal tips on surviving NS?
Be kind, and put others before yourself. Also, tons of water if you're a combat-fit personnel. Chug it down, as much as you can. You'll need it.

Will the songs be different from those of the movies?
You'll hear your favourite songs from the movies, as well as some familiar army tunes, all remixed by our wonderful team. There's also a bunch of duets and solos, and some really funny numbers. And you get to see Maxi dance. That's pretty much the best thing.

How are you approaching your character? Especially knowing you're replacing Joshua Tan.
I get that question a lot! I think Josh did a fantastic job with the character in the movie, and I don't want to disappoint fans, of course. But this is a different "universe", and the Ken of the musical goes through a couple of different experiences in his journey on stage as opposed to on screen. I'm really trying to put myself in Ken's shoes and take in all that he goes through, so things will come across sincere. It's not that hard—army was a very vivid time of my life!

Any plans on hitting the big screen?
I would love to. I grew up watching and falling in love with films. The theatre is always beautiful, but movies have always captivated me. Both theatre and film are amazing experiences, as an actor and audience. I love acting, period.
—
Witness our favourite Sam Willows crooner revisit his army days in the shoes of Ah Boys To Men's Ken Chow. Tickets available at SISTIC.
Event Details
Venue: Resorts World Theatre
Date: 18 April – 4 May 2014
Admission: $38 – $128
Photo credits: FLY Entertainment