Vous ne vous attendiez pas à ce que la première phrase soit en français, n'est-ce pas?
What you've just read, thanks to the powers of the Internet, roughly translates into, "Didn't expect the first sentence to be in French, did you?" Well, the usage of this incredibly foreign yet ultimately romantic language might be uncalled for, but the premise of the play in question should be reason enough.
Making a comeback from their 2010 staging, A Singaporean In Paris is a musical created by Sing'theatre's Nathalie Ribette that follows a young man who trades his life in the Little Red Dot (Singapore) for one as a cabaret performer in the city of the Eiffel Tower, which boasts four seasons as opposed to one. Unfortunately, the weather turns out to be more fickle than wondrous, as did many other things.
Like the first staging, Hossan Leong undertook the role of a director and an actor, playing the young man who goes by the name of KQ—probably to fit into the classier mould of a new country in lieu of sticking to his far less glamorous name.
As he fills his head with idealistic dreams involving a scarf thrown "casually but elegantly" (might as well, pretentiously) around his neck, and a pretty cup of coffee and croissants upon arrival at the Charles de Gaulle Airport, reality hits him like a ball of snow to an unsuspecting patch of bare skin.
A rail strike, an expensive cab ride, and the loss of a luggage dampen his spirit, yet his love for the French culture prevails. Soon, he finds camaraderie in a group of immigrants from a cabaret. There's the English cabaret owner, Anne (Vicky Williamson), the Persian waitress, Sofia (Mina Kaye), the Australian cabaret star, Terence (Linden Furnell), and the most loyal customer from Singapore, Edmund (Peter Ong).
Accompanied by a live band lurking in the background, A Singaporean In Paris shows off some of the best young talents in the local theatre landscape. The party of five shone in numbers like Public Benches, and Paris Is At Her Best In May, in which the blend of their vocal climaxes conjures the image of a choir of angels—corny, but true.
The winning choreography of the evening had to go to Linden's solo, It Will Be My Day, where the ginger gent crooned and tap-danced his way into our hearts. The best part? When he did a centre split and drew a handful of oohs and ahhs from the crowd. On the singing front, he hit all the right notes and the high notes in She and The Windmills Of Your Mind.
His silky smooth tenor, however, lacks the touch of ruggedness present in Peter's voice. Peter, the unsatisfied accountant, speaks with passionate articulation and sings with the same vigour, and perhaps to a further extent.
And as always, Mina's honeyed vocals can only be comparable to the song of larks and nightingales. The moment that marked the pinnacle of her comedic presentation was when she growled like a man in For Me, For Me, Formidable. Without any signs of strain, Mina once again proved her utter versatility as both an actress and a vocalist.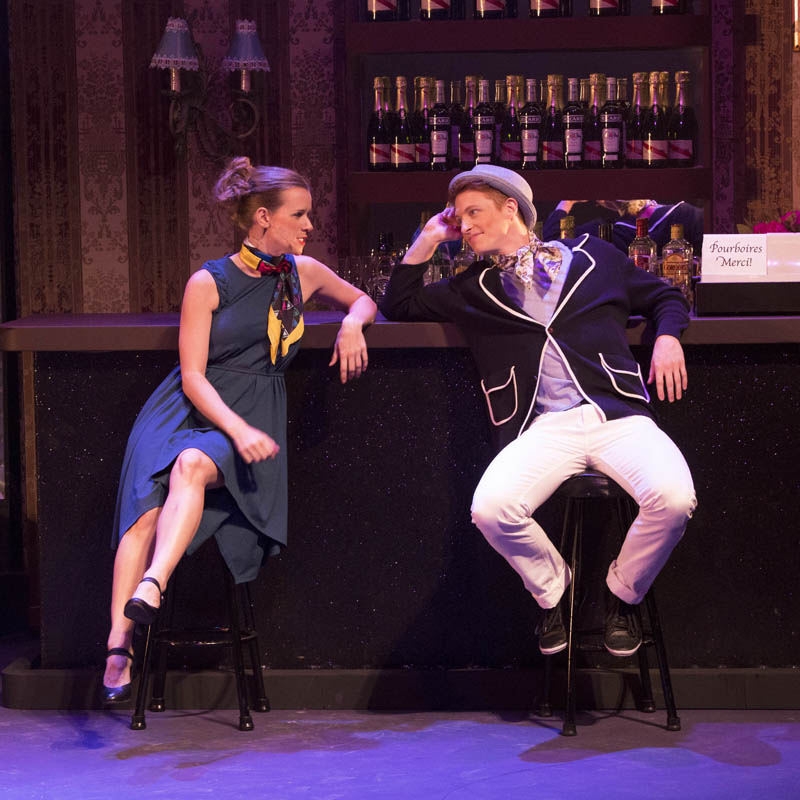 Ultimately, it was Vicky who whisked us away with her delivery. Favourites include a moving solo rendition of He Must Have Been Eighteen, and a hysterical duet with Hossan, You've Let Yourself Go. Her seasoned voice and effortless vibrato, resonating warmth and clarity, has a refined quality that stands out from the rest. In essence, she exemplifies the postulation of a proper (English) lady.
As for Hossan, he may not be as vocally strong as his cast mates, but he never fails to hit his notes with a touch of whimsy. The go-to guy for punch lines, his unparalleled proficiency in French was only short of a convincing accent from a flawless depiction of a Frenchman.
Though A Singaporean In Paris sings the praises of the city of love and its admirable eccentricities, it does not forget the origins of its characters. And it is as much a très magnifique (very lovely) journey for its characters as it is for its audience.
—
A Singaporean In Paris runs till March 23 at the SOTA Drama Theatre. Tickets are from $40 at SISTIC.
Photo credits: Sing'theatre