Filling up the shoes of a character played by greats such as Julie Andrews and Audrey Hepburn is a terrifiying  job.
Aurora Florence is one brave woman for stepping up to the plate. She delivered a sterling performance in My Fair Lady, which is the latest play to open at the Marina Bay Sands' MasterCard Theatre on February 11. Singapore is its first stop after the play wrapped up their two-year North American tour a few months back.
My Fair Lady's premise is rather simple: Eliza Doolittle (Aurora) is a rough flower lady, who gets mocked by English coach Professor Henry Higgins (Chris Carsten) for her Cockney accent. A chance meet with Colonel Pickering (Richard Springle) turns into a bet when Pickering challenges Higgins to turn Doolittle into a duchess within six months. As Higgins whips Doolittle up into shape, she soon realises his discriminatory ways are teaching her that there is more than just good English and manners to be a lady and find one's true self.
As with most productions that have successfully finished tours of more than 50 shows, high expectations were in place for the cast to deliver a justifiable performance of a classic script that has launched the careers of many a star. You may think this is quite an unfair burden, but tackling such a production does imbue some sense of responsiblity to do it justice.
And justice, it definitely did. The play's standout songs certainly matched the standards expected of them, from Alfred Doolittle's scowl-sing that is "With A Little Bit Of Luck" to the change in tone from uncouth Eliza's "Wouldn't It Be Loverly?" to the refined-lady reprise of the same song. Choreography from Denis Jones (Honeymoon in Vegas, Sex and the City 2) is en-pointe, especially in ensemble scenes. The uptight gait in "Ascot Gavotte" and the riotous dance break in "Get Me To The Church On Time" are particularly delightful to look at.
.@auroraflorence will play the famed Eliza Doolittle character in #MyFairLady, opening tonight at @marinabaysands! pic.twitter.com/hlJXsiXheK

— Popspoken (@popspoken) February 12, 2014
Aurora Florence absolutely nails Eliza Doolittle and it is easy to understand why director Jeffrey Moss casted the then-fresh graduate in the role after a 30-minute audition. Aurora embodies the earnest attitude in Doolittle with her wide-eyed gaze and humble demeanour. There are no airs and graces in her performance — even as she steps down the stairs in a regal white gown to go to the ball, there is a sense that one can relate to the story Doolittle represents due to Aurora's characterisation. As she squabbles with Higgins and asserts her rights, Doolittle doesn't need to keep saying "I'm a good girl" like as if no one notices that. Aurora brings Doolittle closer to the audience.
Aurora's failing, however, is in the brashness needed of the Cockney Doolittle. Perhaps eclipsed by the only modern-day representation of what a Cockney person should be — Adele –, Aurora's proper Cockney accent is a little too stilted and posh for Doolittle's dirty clothes and smudged dirt on her face.
Chris Carsten really did try to deliver an honest representation of Henry Higgins, but the character continues to remain one of the greatest mysteries in classic musicals. An egoistic, self-centered man is Higgins, but from his abhorrence of women to the circle jerk he indulges in when it comes to the English vernacular, his intentions are somewhat lost in writing. When he pins down women for their ineptitude ("A Hymn To Him"), he fails to explain exactly how Doolittle's actions prove his theory. He generalises all lack of education but his disgust for those of the lower class is never examined, just merely gliding through the surface in talk-sings.
We are never once asked or given a chance to interrogate Higgins for his pompous self; we just have to accept it. That makes for a lazy character written either for lack of understanding or deep-seated disgust (and subsequent disassociation) with those like him who exist in real life. Chris' portrayal of Higgins added much-needed nuance to a character whose kind is often generalised i.e. the rich and well-learned.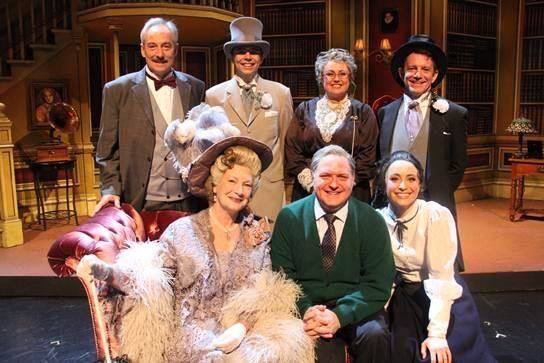 The real rockstars of this adaptation however, go to the supporting cast and ensemble. From the witty Mrs Higgins (Kathleen Huber, who was a nominee for a Broadway World Award) to the hilarious misguidedly earnest Freddy Eynsford-Hill (Daniel Cardenas, who makes his professional debut here), the supporting cast add colour and offset the heavy load that the main characters have to shoulder to carry the story through.
Special mention must go to Michael Brian Dunn for his humanised portrayal of Alfred Doolittle: not settling for a one-note token character, Michael adds subtext to a character who is much wiser than his educational or social stature tells him to be.
The ensemble is tight and every single actor and actress is not just a wallflower in the masses: from facial expression to small actions, the hallmark of an ensemble is to see every character as their own even as they are reciting the same line and doing the same action. This ensemble achieved that spectacularly.
Greats aside, there was much left to be desired after the gala night performance. Since we're convinced jetlag wears off after a few days, that may not have been the reason for the lack of energy the cast generally offered to the audience. There was space for more cackles, more anger, more tears. The crescendo of emotions never really peaked and was at times, inconsistent.
Hampered by some technical faults such as mic problems and orchestra synchronisation issues that both the production team and the Marina Bay Sands team should never, ever commit, a simple two-second mic blackout spoiled a key line from being delivered. Although, yes, both parties are but mere human bodies, such flubs should not be seen by such professional bodies. The general audience may forgive, but they will never forget.
Having said that, these are but mere hiccups that can be corrected with a few more runs. My Fair Lady is a fantastic script of self-discovery and the trappings of love and kinship. This staging doesn't try to be edgy or different: the untouched script proves that a classic can still resonate in today's day and age. It is definitely worth the watch — if you can stand the three-hour duration. Eat your dinner, pee before you come in and try not to fidget while waiting for Act 1 to end.
Photos: BASE Entertainment Asia
My Fair Lady runs till February 11, 8pm (Tue-Sun) with additional 2pm show (Sat & Sun). Tickets from $95 available via Marina Bay Sands' ticketing website.